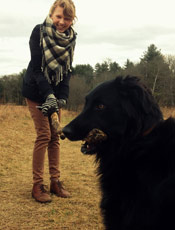 Massachusetts
Division II Concentration: Child Development and Animal Behavior

Hampshire is the perfect place for Abby Brownell, but it took her a while to find that out.
After high school, she attended a local liberal arts college, but it wasn't right for her: "I had only spent a semester there before I began feeling as though I couldn't really see myself growing and exploring things in the way that I'd imagined," she recalls.

She withdrew, and began working full time at an animal hospital, where something clicked. She enrolled in a Vet Tech program, but that didn't feel right, either. "I remember thinking, 'I may not be challenging myself enough,'" Brownell says.

Then she rediscovered Hampshire. "I thought about applying to Hampshire in high school, but, after being totally intimidated by the cost of attendance, I decided against that," Brownell explains. "Little did I know I would later get a really nice financial aid package."

Brownell toured Hampshire, and it was just right. "It felt like home, and it felt like a place where I could investigate the things I wanted to," she says. "I liked the idea of having a whole lot of freedom paired with a nice support system. I wanted to feel challenged without the silly weight of letter or number grades. It just seemed like an honest place to explore, learn, and grow."

Brownell dove in, combining animal behavior with another interest: child development. She describes her academic concentration as "blending those two together to explore canine-assisted therapy with children."
"I'm examining the child-dog bond," she says. "How does this bond form? Why does it form? And why do some children form closer bonds with animals than with other humans?"

"Hampshire is a wonderful place to explore what you're passionate about, and to investigate questions that have been lingering in the back of your mind."
 
For answers, Brownell goes well beyond the classroom. She continues to work at the animal hospital, and at the Cushman Scott Children's Center in Amherst.
To put it all together, she's also training her retriever mix, Willow (pictured above), for pediatric therapy.