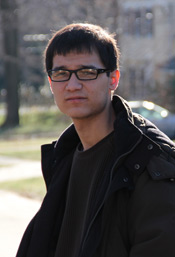 Faryab, Afghanistan
Div II concentration: International conflict resolution

Like many students, Arslan Muradi had a gap in between high school graduation and his first year of college. But Muradi is the only one to have spent three years working for the U.S. Agency for International Development (USAID) before being accepted into the AMZ Renaissance Foundation Afghanistan Undergraduate Fellowship Program (AUFP) and coming to Hampshire College.

The Fellowship Program, created by the AMZ Renaissance Foundation and American Councils for International Education, provides merit scholarships for Afghan students to attend college in the United States. Muradi is one of only ten students who have been accepted into the program.

Before applying to AUFP, Muradi already knew that he wanted to study human rights and international conflict resolution. Based on this passion, his other interests, and his personality, the program matched Muradi with Hampshire College.
Personalize Your Education
From the outset, Hampshire proved to be a perfect fit. In his first semester of Division I, Muradi took Political Anthropology of South Asia, taught by Visiting Assistant Professor of South Asian Studies Vishnupad. In the class, Muradi investigated efforts to resolve the India-Pakistan conflict from 1947 to the present.
In addition to increasing his knowledge on the subject, the course strengthened Muradi's commitment to studying international conflict resolution in his Division II Concentration.

Muradi also sees an almost unlimited variety of subjects and ways to study them in the Five College consortium. "I feel that there are a lot of ways of making things possible," he says of the shared resources and learning opportunities at the five schools.

Aside from academics, Muradi is an active member of a number of student groups, including Students of Under-Represented Cultures and Ethnicities (SOURCE) and the Forum of International Students at Hampshire (FISH). Although mod housing is usually unavailable to first-year students, Muradi is able to live with other international students in the International Students Mod in Greenwich.
"There couldn't be a better place than Hampshire for me."
Now in his second semester, Muradi knows exactly where he wants to take his education. "I want to work with conflict resolution firms in and out of Afghanistan," he says. "Mostly through economic development, I would like to make Afghanistan a better place to live."