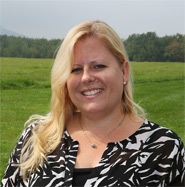 Degrees: M.Ed., Elms College
Email: bszemela@hampshire.edu

The reason I love working at Hampshire:
The students at Hampshire absolutely fascinate me! Their creativity, ingenuity, talent, and personalities continue to amaze me.
The fact that students are able to study what they are interested in and passionate about creates a learning environment where students are excited to learn and actually have the opportunity to do something more with the knowledge and skills that they attain.

A piece of advice for prospects in the college search process:
Begin your college search early, do your research, visit, work with your admissions counselor, and pay attention to deadlines. It is always better to get things done early rather than to scramble and stress at the last minute! Also, "follow your gut" when it comes to deciding which college is the best fit for you.

My favorite way to travel:
By car! I love to drive and see the sights along the way, while I look for beautiful and interesting things to explore. My favorite place to drive is along the shore where I can stop at my "happy place" and clear my head to the smells and sounds of the beach.

My favorite TV shows:
The Vampire Diaries, Baby Daddy, NCIS, Gilmore Girls

My favorite way to procrastinate:
I love to read. I would rather curl up on the couch with a good book any day, especially when the alternative activities are chore related!

A random fact about me:
I am a huge sports fan! I love football, NASCAR, baseball, and my absolute favorite sport is hockey.