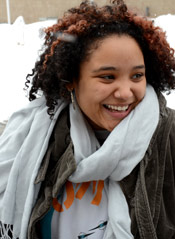 Seattle, Washington
Division II Concentration: Hip hop studies, public health, education, and public policy.
Explore Your Passions
When Chiloe Barrera-Cloyd transferred to Hampshire in the fall of 2010, she was happy to see that the College lived up to its reputation for encouraging interdisciplinary study.

Initially planning to focus on public policy and education, she also decided to delve into the cultural and social impact of hip hop after taking several courses in African American studies.
Faculty such as Visiting Assistant Professor of Literature McKinley Melton and Assistant Professor of African American Studies Christopher Tinson encouraged this idea.
Create New Knowledge
For her Division II project, Barrera-Cloyd will use hip hop as a general framework to analyze public health and policy issues and education from a racial and social context that also explores class, gender, social justice, and activism. It's a wide focus, but one she believes will also have real depth thanks to the academic rigor of her studies at Hampshire.
"All of my classes here have given me new perspectives and introductions to things that I can incorporate into my own political and personal views," she says.

Barrera-Cloyd has applied for an internship in New York City this summer, with a focus on public health and reproductive rights.
"There's no way I would have been able to study what I'm studying elsewhere. That's the beauty of Hampshire."