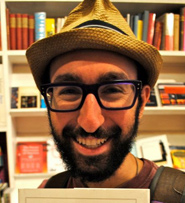 Cambridge, MA
Division III: We Need to Redraw the Map: Geographies of Belonging in a Globalized Time-Space

Eli Plenk is an activist through and through. After leaving college to work as an organizer for a farm workers' union, he realized that he's also an academic. So he applied to Hampshire.

Immediately, he knew he'd made the right decision. "I remember calling my parents and saying that I feel like I'm in the right place, after two years of really struggling with myself," he recalls. "I just have this sense that I am where I'm supposed to me."

At Hampshire, Plenk's studies originally focused on histories of race and racialization. "Then I took Lorne Falk's Border Culture class, and that was a real academic catalyst for me," he says.

"I thought a lot about how people that inhabit borders challenge these ideas that we have about geography separating 'us' from 'them' and 'here' from 'there,' and was able to start to think about how to relate my interest with race and racialization and activism to what had always been an extracurricular interest in geography."

Plenk's Division III (senior) project is a thesis about "rethinking the way geography can be used and understood, especially as an activist tool, but also generally as a frame for understanding the interconnected world in which we live," he explains.

The thesis discusses both theory, and concrete projects such as AREA Chicago's "crowd-sourced geography" and Trevor Paglen's maps of CIA extraordinary rendition flights.

The Division III process confirmed that Hampshire was the place for Plenk. It "gave me time to do original work that I really cared about, and support to do that in a meaningful way," he says.

"There are very few schools where I think I would be treated that seriously as an academic."
 
After graduation, Plenk will spend the summer in Berlin as a Humanity in Action fellow, studying human rights and migration in Europe.