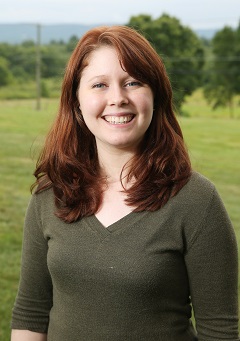 Degree: B.A., Hampshire College
Originally from: Newnan, Georgia
Email: edorrell@hampshire.edu

Title of my Division III Project:
The Tomorrow Project: Collaborative Theatre and Adaptation

Favorite Books:
Welcome to the Monkey House by Kurt Vonnegut, Summerland by Michael Chabon, all seven Harry Potter books.

Favorite TV Shows:
30 Rock; Parks and Recreation; Buffy the Vampire Slayer; Arrested Development; The Office

Favorite Places to Spend Time in the Pioneer Valley:
Turn It Up! Records. There's one right in downtown Northampton and another at the elusive Montague Book Mill. I have a little record player, and I love to put on weird records I find in the bargain bin. My favorite is Commander Cody and his Lost Planet Airmen's "Country Casanova." It's very cheesy.

Favorite places to visit:
Little Five Points in Atlanta. Lots of vintage clothing stores and odd secondhand shops, plus the best tater tots in the city! Also close to the Atlanta Zoo, another favorite place of mine. I love to watch the otters! To make a full day of it, stop by the huge Krispy Kreme donut shop on Ponce de Leon Ave. The hot light is almost always on!

The one thing I want to accomplish in the next several years:
I have a big vacation in the works to go to Japan. I've never been abroad! I've just started learning to speak Japanese. You can quiz me on my numbers 1-20.

Piece of advice for prospects in the college search process:
Start early. You want to give yourself time to write (and proofread!) the best application you can so we can see how fully awesome you are. If you're set on a school, consider applying by the Early Action deadline if it's offered. Your application will be in sooner, you'll get a decision sooner, and it's non-binding, meaning you can shop around financial aid offers. Trust me, if you're applying as a senior in high school, knowing your admission decisions before April 1 takes a huge load off your mind!

A surprising fact about me:
I'm a band geek. I was on drumline for two years, then moved up to Drum Major. I'm also a mean concert percussionist; my timpani forte-pianissimo roll is the stuff of legend.