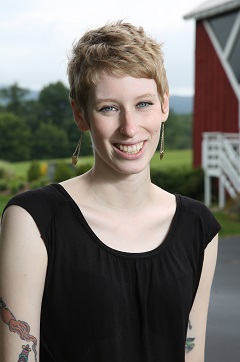 Emma Opitz
Assistant Director of Admissions
Email: eopitz@hampshire.edu
Territories: Maine, New Hampshire, Vermont, Long Island, Upstate NY, Long Island, Arkansas, Montana, Utah, North Dakota

Degree: B.A., Hampshire College
Div III: The Evolutionary Relationship between Speech and Music: Tonality and Emotion
Originally from: Utah and Montana
Favourite part of Hampshire College: In an age where every publication seems to be saying that the current generation is so self absorbed, technology and image obsessed, I have never been in a place that proves those statements more wrong. Hampshire students are the most passionate, caring, and aware group of people I have ever met.
Favourite Books: The Hitchhikers Guide to the Galaxy by Douglas Adams, The Origin of Species by Means of Natural Selection: or, the preservation of favored races in the struggle for life  by Charles Darwin, Even Silence has an End: My 6 years of Captivity in the Columbian Jungle by Ingrid Betancourt, The Evolution of Bruno Littlemore by Benjamin Hale.
Favourite TV shows: 30 Rock, South Park, Futurama, Parks & Rec
Favourite ways to procrastinate: Read the news, paint my nails, talk to my mum, home improvement projects, being a perfectionist.
Best concert you've ever been to: Queens of the Stone Age in Vienna, Austria. The summer before my Division III at Hampshire, I was a research assistant in the department of cognitive biology at the University of Vienna, and I went to a bunch of concerts that summer. QOTSA is my all-time favorite band, and being able to see them live while living abroad was a dream come true.
Advice to prospective students: Deadlines are due dates. You don't have to turn in your application 10 minutes before midnight on the day of the deadline. When you are proud of the work you've done, send it in. Applying to college doesn't have to be that scary, you don't have to let the stress of applications ruin your senior year. You don't have to be concerned about impressing an admissions counselor (I'm not a scary person...40% of what I think about is cats). Just be yourself and submit it when you're proud of it.
Three things that are true about me: I modeled for a designer on Project Runway; I have lived in 6 countries; bananas are my favorite food.