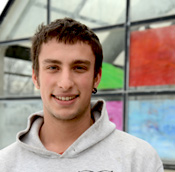 Briarcliff, New York
Concentration: Agriculture and Education
Div III committee co-chairs: Associate Professor of Microbiology Jason Tor and Visiting Assistant Professor of Applied Design Donna Cohn
Evan Thaler-Null has a well-defined plan for his Hampshire education.
Explore Your Passions
Long interested in grassroots environmentalism and do-it-yourself activism, Thaler-Null's studies are focused on merging farming and agriculture with education. Travels throughout agrarian communities in Latin America while in high school made a strong impact.

Closer to home, an apprenticeship at the non-profit Stone Barns Center for Food and Agriculture in Pocantico Hills, NY, during his third semester at Hampshire influenced his studies, and encouraged him to co-develop the Growing Farmers Conference, held in February of 2011, to support young farmers in the Pioneer Valley.
 He also created the Four Season Agricultural Practicum course that gets students involved in agriculture year-round on campus, in addition to running the College's weekly winter farmer's market.

"I hope to establish an infrastructure with the garden and greenhouse that physically supports an interest in farming and programmatically draws in students," says Thaler-Null.

The son of alums Lauren Thaler and William Null, Thaler-Null visited the Hampshire campus for the first time when only a few months old. This familiarized him with Hampshire, but it was the academic framework that really drew him to the College.

"I grew up being supported and encouraged to seek my own direction. I really needed a place where I could have what I think is due agency in my decision-making in where I go in life," says Thaler-Null.

"Hampshire has been a great platform to incubate and support my own  practice and process in becoming an effective educator. I can practice,  and test the waters here."
 
After Hampshire, Thaler-Null expects to continue honing his agricultural skills by working on other farms before eventually starting his own.
Education will be an essential part of his work, as he plans to become a resource for schools and other institutions interested in community-supported farming.