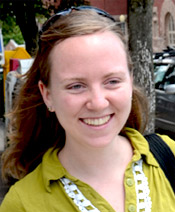 Maine
Div III: Balancing the Bounty: Negotiating Boundaries Within a Soup Kitchen (An Ethnography)
As part of a critical ethnography course in spring 2010 with associate professor of cultural psychology Kim Chang, students were asked to volunteer or participate in an organization, group, or club, and write about their experiences. Hannah Elliott chose to work with a soup kitchen.
It was a decision that set the course for the rest of Elliott's Hampshire studies, as well as her career following graduation in May 2011.
Explore Your Passions
After returning from a semester in Argentina, where she studied psychology and music therapy, Elliot found herself wanting to get actively involved in the local community.
"My motive was to find out how to get down to the ground level to help with the most fundamental needs of society and put my education to best use."
Elliott's Division III (senior) project, Balancing the Bounty: Negotiating Boundaries Within a Soup Kitchen (An Ethnography), was based on her time there.
"Her Div III is a wonderful example of community engage research that combines rich ethnographic depictions of the work of the soup kitchen alongside in-depth interviews with the director, social workers, volunteers, guests, and other local persons whose lives intersect with various emergency food programs," said Professor Chang, who served as Elliott's Div III chair.
Elliott critiqued matters such as  the division between the people who ran the food pantry and the people who ate there, the management of food waste and distribution, the social stigma of relying on the kitchen, and the difficulties of trying to aid people while also helping them to become more self-sufficient. As much as she tried, she knows she still doesn't have all the answers to her questions. She did, however, remain involved.

"The way the Div III is set up prepares me well for this career. I was given a chance to focus on what I was interested in. I'm excited to see how it continues."
 
After graduation Elliott accepted a job as a caseworker with a family outreach organization run by the same umbrella organization that manages the soup kitchen.
Hampshire has had a large impact on how Elliott approaches being a family outreach caseworker.
"My job is very self-directed, which goes in line really well with what I learned at Hampshire. It's my responsibility to fill in the knowledge gaps the best I can," she said. "At times it feels like I'm still in school, because I am learning so much."