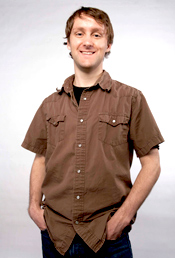 Bradford, New Hampshire
Division II Concentration: Nanoscience
Division III Final Project: "Designing and Investigating Dynamic Hybridization Between Double Complimentary Oligonucleotides."
When Isaac Bruss wasn't busy designing DNA for his Division III (Senior Thesis) project, you could find him out on the field as captain of the Hampshire men's soccer team, or hiking and biking around the countryside and catching music in the nearby city of Northampton.
Explore Your Passions
Isaac drew freely from courses in chemistry, biology, and physics at Hampshire, as well as course offerings at the other Five College schools, to create his program of study in nanoscience. Thanks to the consortium's flexible nature, he had the opportunity to earn academic credit for his internships at the University of Massachusetts/Amherst and Brookhaven National Labs.

"I couldn't imagine college any other way."
 
He is now pursuing a Ph.D. in polymer science and engineering at the University of Massachusetts/Amherst.

"One of Hampshire's greatest strengths is its connection to the Five College consortium--not just for the courses, but also for the library system, the clubs and extracurricular activities, the seminars, the multitude of experts representing anything one could possibly be interested in. That plus the divisional system, which allowed me to define my own area of concentration made Hampshire the only choice for me."
Bruss's mother and brother are also Hampshire graduates.