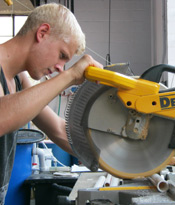 Jon Butler 11F's Division II studies took him from Woods Hole to Hawaii. As part of his work, Butler spent a semester with the Sea Education Association, starting by studying phytoplankton at Woods Hole and then sailing from Tahiti to Hawaii via tall ship.

"It was unreal, totally crazy," he says. "I would recommend that trip to anyone."

Locally, Butler worked at Australis Aquaculture with Josh Goldman 81F. Located close to campus, in Turner's Falls, Australis features one of the largest land-based aquaculture facilities in America.

On campus, Butler lives in the Enfield Solar Greenhouse Mod, a communal mod with a green house attached, cared for and maintained by its residents. He has been working on his own aquaculture system, raising barramundi, an Australian white fish, and using hydroponic plants to absorb the nitrogen from the fish waste. The result, Butler says, replicates the ecology of a stream or lake.

Butler was able to construct the aquaculture system with a grant from the Ray and Lorna Coppinger Endowment, established in 2006 to support student and student-faculty collaborative research in the cognitive and biological sciences.

The Greenhouse Mod provides Butler with a fertile intellectual environment. "We have a group of people with a common goal, who are involved across different disciplines--the humanities, theater, hard science," he says. "We all come together to brainstorm how to make the greenhouse a better place. It's fun to interact with lots of different community members in a space we're trying to make useful and pleasant for everyone."

Butler, who is a transfer student, says he finds Hampshire professors particularly engaged with their students. "The professors take you seriously here, and listen to everything you have to say, even if you're just starting to figure things out and don't have a fully formed thought," he says. "They really care about trying to expose students to new ideas, and get excited when students ask a probing question that they might not have expected. It's nice to see professors' eyes light up in that moment."