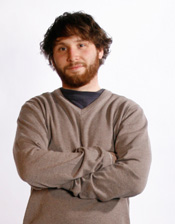 Brooklyn, New York
Division II Concentration: Journalism

Julian Feller-Cohen is a busy guy. Feller-Cohen transferred to Hampshire College from George Washington University, and is fully immersed in his Hampshire education.
Explore Your Passions
He refers to his Division II project as a "holistic approach" to journalism, studying television, internet, print, photography, and film. "I really tried to get skills in every form," he says. "I was engaged in the question of how different types of coverage affect the outcome of a story, with different rules, different media."

"I took a radio news class at UMass, interned at the Daily Hampshire Gazette, I made a documentary about the Amherst Farmers Market, a documentary about the Amherst Police Department," he says. "I've also gained a lot of experience shooting and processing film and making prints."

Feller-Cohen appreciates the passion exhibited by his peers. "It's not like you get out of class and have to forget about what you were doing in class," he says. "You come home and your friend is excited about all the things they did in class during the day."

The Hampshire faculty has been a helpful resource for Feller-Cohen. "When you have a dynamic teacher, when they're interested in your work, it makes it valuable. You know you're going to get a thorough reading, your work will be done justice."
For his Division III project, Feller-Cohen intends to cover an event and analyze the difference in how the it is perceived across media.
"I'd like to make a magazine piece and documentary, and show them to people to see if they get different impressions," he says.

"For professors, this is their work, this is their life; they value you."