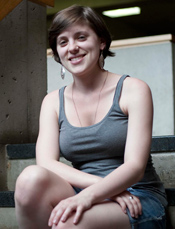 San Francisco, California
Division II Concentration: Bioethics, health policy, and neuroscience

"I have felt incredibly free and supported here."
Expect More From Your Education
Only at Hampshire could a student like Kendra Bechtel start off with passionate enthusiasm for French literature and linguistics, then almost immediately develop an equal passion for neuroscience and decide to be pre-med, only to refocus on bioethics and eventually settle on a Division II concentration in bioethics, health policy, and neuroscience.

That's because only at Hampshire is it possible to pursue many different interests, to continually redefine and reconfigure your program and still have a coherent academic experience.

Kendra's internship at Harvard's Moral Cognition Laboratory turned out to be a pivotal learning experience; she took on progressively more important responsibilities and learned how to set up an experiment and run a research study. But she also learned that neuroscience research was not her life's calling. This, along with a Five College internship in Gender and Genomics, has led her to a Division III project focusing on Huntington's Disease and genetic testing.

"I met with my committee for about two hours discussing why I got into pre-med--what I liked, what I didn't like--and that's how I got to my new concentration."
 
Kendra stays connected to her love of music through The Crazy Pitches, an a capella group, and the Amherst Women's Choir. She also loves discovering local "delicious new restaurants" and study parties in the Bridge.