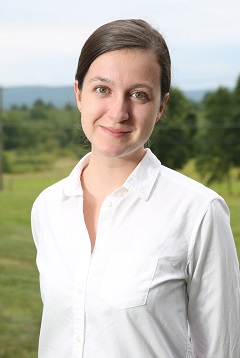 Assistant Director of Admissions
Degree: B.A., Hampshire College
Originally from: Manhattan, New York
Email: kgunnarsdottir@hampshire.edu
Reason I love working at Hampshire: The engaged, curious, and incredibly hardworking people I interact with every day.
Title of my Division III Project: Explore/Experiment/Engage: How Hampshire teaches you to Think.
Ask me about these Hampshire Programs: Women's Basketball and Soccer, Student Government, Study Abroad in Cuba, and ISIS Bohm Dialogue.
Piece of advice for prospects in the college search process: Don't be shy about asking questions--especially the hard ones. Questions are often the best means to gain a deeper understanding of whether a school is the right "fit" for you.
Favorite books: 100 Years of Solitude by Gabriel Garc'a Márquez; Lord of the Flies by William Golding; Omnivore's Dilemma: A Natural History of Four Meals by Michael Pollen; His Dark Materials by Philip Pullman; The Art of Choosing by Sheena Iyengar; Edging Into the Future: Science Fiction and Contemporary Cultural Transformation by Veronica Hollinger and Joan Gordon; Superfreakonomics by Steven D. Levitt and Stephen J. Dubner.
Favorite TV Shows: Lost, Six Feet Under, Queer as Folk, Buffy, Charmed, Breaking Bad, Mad Men, and Melrose Place.
Favorite Hampshire secret: There are small wild brown bunnies everywhere!
A random fact about me: I am a dual citizen.
The one thing I want to accomplish in the next several years: Learn conversational Arabic.