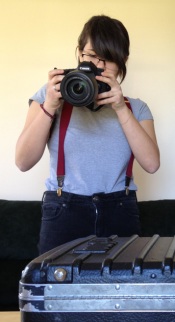 Sacramento, California
Division III: QPOCALYPSE
Committee: Visiting Assistant Professor of Film/Video Production Jules Rosskam and Assistant Professor of Media Culture Susana Loza

"Even though I knew that I wanted to study film, I also wanted to study other things to inform what I was going to make films about," recalls Mel Mel Sukekawa-Mooring. As they* decided between colleges, they realized that Hampshire would be the perfect place for just that.

"One of the best things about Hampshire is being able to really self-direct your studies," Sukekawa-Mooring says. While building a film-production base, they've also studied 'hybrid' gender and racial identity through a mix of formal classes and independent studies, and Japanese at Amherst College through the Five College consortium. 

Since their first year, Sukekawa-Mooring has interned with the youth action coalition Video Vanguards through Hampshire's work-study program, helping with projects, designing curricula, and facilitating workshops. They've also spent a semester abroad at Tokyo International University, strengthening their skills in Japanese and reconnecting with family.
Not to mention their summers: "Every internship that I did has changed how I interact with the world and how I view my studies," Sukekawa-Mooring says.

Thanks to two grants received through Hampshire, they worked in L.A. with a group called Immediate Justice. It "works with queer and allied girls of color around queer Sex Ed, making short animations about what we learned, and turning them into PSAs," Sukekawa-Mooring explains.

"That was a really amazing experience," they add. "I didn't even know that something like that could exist." They plan to go back and work with Immediate Justice full-time after graduation.

"One of the best things about Hampshire is being able to really self-direct your studies."
 
First, they're completing their Division III (senior) project, a film that demonstrates the power of that "content" that Sukekawa-Mooring came to Hampshire to find. QPOCALYPSE "follows five queer folks of color and their experiences, within this apocalyptic setting, finding home and finding family, and creating family."

"I feel like it's a letter to my younger self," Sukekawa-Mooring says. " These people do exist, and you'll find them, and this community, this vision, can exist.'"


*At Hampshire College, we value self-expression and self-identification for all members of our community. Hampshire College expects that all members of our community will let people self-identify their gender and the gender pronouns they use to describe themselves.