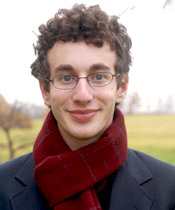 Deerfield, New Hampshire
Division II Concentration: Place in Creative Writing and Literature

When Michael Samuels arrived at Hampshire College in the fall of 2009, he had only one regret.

"My Div II concentration basically came out of all of the angst I had around my parents moving from New York to New Hampshire before I was born," says Samuels, "and this belief that that'd basically ruined my chances as a writer."
Explore Your Passions
Instead of freshman year, sophomore year, and so on, Hampshire students qualify for a bachelor of arts degree by completing a full-time program composed of three levels, or Divisions, of study. Samuels' Division II is a good example of how Hampshire's self-created concentrations allow students to pursue directly their passions.

"I started having these weird moments where people would point out my accent," he says, "or where I'd be really unimpressed by fall foliage, and I'd think, 'Oh God, I'm from New Hampshire!'" At the same time, Samuels noticed more New England settings and characters appearing in his fiction.

"It made me want to try to figure out what was going on," he says. His Division II has included literature classes that deal with the creation of a national American identity, the role of locations in stories about travel, and the figure of the city.
He conducted an independent study that explored the relationship between Latin America and magical realism. As a summer intern at New Hampshire Public Radio, he wrote and produced a series of feature stories on agriculture in the state, with an eye to issues of rural identity. Every semester, he also takes a creative writing class, where he incorporates ideas from his theoretical work into his own fiction.

"Being at Hampshire allowed me to go after this very specific, personal interest, and really follow it through and make something out of it."
 
Next semester, Samuels will continue this work in Madrid, where he is enrolling as an exchange student at the Universidad Complutense.
The university's Spanish-language literature program is considered the best in the world.