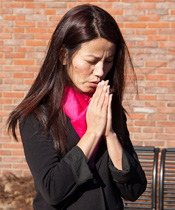 Division III Concentration: "Using Linguistic Principles to Improve Teaching of Tibetan Language"
Namgyal Norbu's experience growing up in Tibetan refugee camps in India revealed the threat faced by her native language, and influenced her to concentrate on linguistic and pedagogical elements of language acquisition, and engage in language education as a form of activism.

Norbu, who speaks Tibetan, Hindi, English, and some Nepali, studied at the Central University of Tibetan Studies before coming to Hampshire through our Tibetan Studies Program. At Hampshire, she combined her interest in linguistics with her determination to make the Tibetan language more approachable, delving into research work with a team of modern linguists with the Five College consortium. She took many classes on linguistics and education at all five colleges.

Norbu taught the language to Tibetan American high school and middle school students, for a Tibetan cultural summer camp in New York, and for the Tibetan Medical Institute, a four-year degree program for American Buddhists interested in studying Tibetan medicine and language.
Explore Your Passions
This exposure informed her Division III project, a comprehensive guide to revolutionizing a system of education, in which she explains how methods of teaching Tibetan can be improved through the application of information about modern linguistics.

Norbu experienced personal as well as intellectual growth during her time at Hampshire. "I've met many international students here, and because of that exposure, my cross-cultural understanding and sense of global oneness has expanded," she recalled. "It's like meeting all the delegates from different countries."
She hopes to continue teaching Tibetan in the area, and that her research will be a valuable resource to the academic community.

"I feel proud and excited to have graduated from such an esteemed college, and at the same time, there are so many things I will miss."