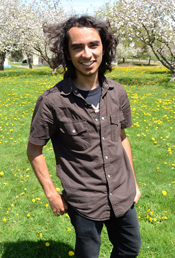 Kathmandu, Nepal
Academic Interests: Web design, language, media
Parimal Satyal knew he wanted something different from the academic approaches of the schools he attended while growing up in Nepal.
"It was a pretty traditional system that rewarded test scores, and I didn't like that. I did well, but I didn't want to go down that path. So I looked for an alternative education, and the prospect of getting to study what I wanted to study," he said.
Explore Your Passions
In Hampshire, Satyal saw an alternative. When he arrived his interests included web design and music. From there it was all about exploration. A course on tabloid news, focused on current events such as the 2008 presidential election taking place during his first semester, captured Satyal's attention.
"It was dynamic, very different, hands-on class informed by readings," he said. "In my first year I also took French. I didn't know I had a thing for languages until I got here."
From French, Satyal quickly dove into Chinese after deciding to spend the summer of 2009 in China through Hampshire's partnership with the Anhui Agricultural University, a program introduced to him by Hampshire's Global Education Office (GEO).
"I was able to interact in a personal way with a culture that was so alien. There were six hours of classes a day, then I would go out on the streets to talk and learn from people."
 Satyal returned to China again in summer 2010, before spending the fall 2010 semester in Paris at the Institut d'Etudes Politiques (Sciences Po) through another Hampshire partnership arranged by GEO.
While in France, he began working on on the website studentparis.com. He enjoys creating sites that involve collaboration with the people who use them. That's one of the reasons he had signed up for TheHub, Hampshire College's main internal website used for things such as course registration, advising, room selection, and evaluations. Satyal says he was amazed that a site so important was entrusted to students.
"TheHub is an example of just how great the Hampshire system can be. The class was phenomenal. The fact that something like this can be done at Hampshire speaks to the educational philosphy."
For Satyal's Division III (senior) project, Satyal expects to draw from his interests in language, the Internet, and media.
That said, he also knows that the project could be something entirely unexpected.

"The best learning happens, I think, when you're driven by genuine curiosity."