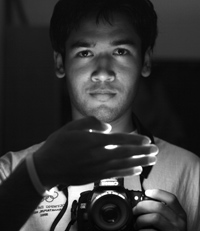 Bhaktapur, Nepal
Division II project: Human-powered design and photography
Explore Your Passions
An accomplished photographer whose work has been published in magazines and newspapers, including The New York Times, Prateek began to lean toward industrial design and engineering through a first-year course he took from Colin Twitchell, a Hampshire alum and the director of the Lemelson Center.
"I've invested as much energy in photography and fine arts as I have in engineering."
Combine Academic Interests
In designing his Division II concentration, he fused classes from the Lemelson program and the Five College consortium to get the right balance of science and engineering coursework, while also creating a multidimensional, independent research project to put the core academics to the test.
He says that as a result of this experience, he's learned how to manage and research an extensive project independently and responsibly.
"I need a reason and motivation to learn what I am learning and to be able to test its applicability while doing so. Hampshire's educational structure lets me do just that."
He's also developed the confidence to tackle even more challenging projects.
For his Division III, he is designing and fabricating a highly energy efficient commuter car.