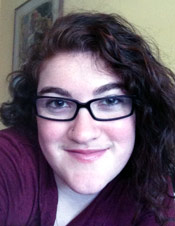 Snohomish, Washington
Division III: Social and Developmental Benefits of Participating in Theatre for Youth

It hit Rachel Friedman when she was interviewing for an internship two years ago. As she described her first two years at Hampshire, she remembers her soon-to-be supervisors' jaws drop.

"They thought it was amazing that I could work in such a professional capacity in a student-run theatre" she recalls, "and have internship experience, and have taken such specific courses in the field."
"I knew that I had made a good decision in coming to Hampshire."
Friedman says the mix of hands-on experience and personally tailored coursework at Hampshire is the reason that she was able to get her most recent internship-on Broadway.

Doing a field study for her Division III (senior) project, Friedman worked at Manhattan Theatre Club as their education intern.

She ran Write Now!, a free afterschool playwriting course, taught by professional playwrights, including Pulitzer Prize winner David Auburn. "Throughout the semester students develop scripts," she says, "and then we bring in professional actors to do staged readings of the student work."

Friedman is back at Hampshire for the spring, combining her internship experience, and interviews from New York, with additional research to write her Division III on the necessity of theatre in K-12 education.

"I know that I only had those experiences because I go to a school that allows me the freedom to study the things that I feel passionately about," she reflects. "Now that I have spent a small amount of time in the world I wish to enter professionally, I understand how incredibly valuable that is, and I wouldn't give it up for anything."

"I knew that I had made a good decision in coming to Hampshire."