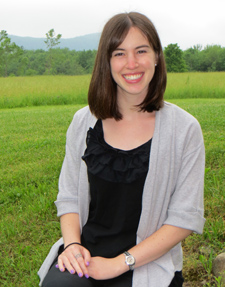 Assistant Director of Admissions
Degree: B.A., Goucher College
Originally from: Westport, Connecticut
Email: sjoustra@hampshire.edu
Why I love working for Hampshire College: Though I didn't attend Hampshire, I am so passionate about Hampshire's mission and its academic approach. Hampshire, more than any other institution I know, places the emphasis on the individual and gives them the tools to succeed. I'm in awe of what these individuals are capable of—they're artists, inventors, and creators. They ask questions, challenge ideas, and enhance the world around them, academic and otherwise.

Piece of advice for prospects in the college search process: The single most important experience that will impact how you feel about a particular school is the campus visit. You can read as much as you want in brochures and on websites—and even talk to friends or alums—but I'm a huge proponent of that "feeling" you get when you're on campus. Walk around, take a tour, and see if you can really see yourself at that school. If there's a chance to sit in on a class or even do an overnight stay with a current student, that's the best way to get a real, authentic look at a school.

Favorite way to travel: I love taking the train, speeding along and watching the world pass by. I like airplanes too, especially if I can be on the left side.

Favorite TV shows: The West Wing, Brothers and Sisters, Frasier, and Seinfeld.

Favorite Shakespearean plays: King Lear, Much Ado About Nothing, and A Midsummer Night's Dream—in that order. How can you argue with King Lear (the original literary dysfunctional family)?

A random fact about me: Every day of my life since the first day of high school is recorded. I am compulsive about writing in my journal every single day.
What's Hometown High?: I'm so glad you asked! Hometown High is a program that I run that gives current Hampshire students the opportunity to visit their high schools during winter or spring break (or both!) to talk to students about their personal experience at Hampshire.