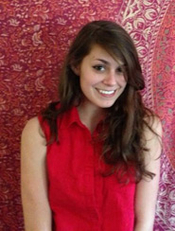 Wilmington, Delaware
Division II Committee: Nathalie Arnold, Rachel Rubenstein

Sara Coughlin 11F compares writing a short story to a frozen lake. "I was in a writing workshop called 'Mystery and Imagination,' and we repeatedly visited this metaphor of a frozen lake. A well-written short story should emulate a frozen lake—you look at the surface and see a few fish swimming around, but you know for a fact that there are even more further down that you can't see," she says.

"To relate that to a story, there are certain details readers are given, questions that readers have that are answered, but leave just a few unanswered and prompt the reader to continue reading," she says. "That makes for an interesting story rather than one that's too obvious or coy."

Coughlin's Division II studies have focused on fictional short stories and American studies, particularly a historical examination of masculinity in fiction.

Coughlin finds a muse in small town life, particularly drawing inspiration from growing up in a close-knit neighborhood in Wilmington, Delaware. "It's not a full-tilt small town like the settings I've been writing about, but I've been drawing from my hometown for descriptions of neighborhoods," she says.

Associate Professor of Fiction Writing Nathalie (Nell) Arnold and Associate Professor of American Literature and Jewish Studies Rachel Rubinstein make up Coughlin's Division II committee. Coughlin praises Arnold for her engagement in her creative process, and Rubinstein for inspiring her to focus part of her Division II studies on American masculinity.

Collaboration through writing workshops has broadened Coughlin's perspective. "I'm more able to see two sides of an argument, that has come from a discussion-based, conversational style of class," she says, also pointing to her position as a student orientation leader as a means of working with students from varying backgrounds.