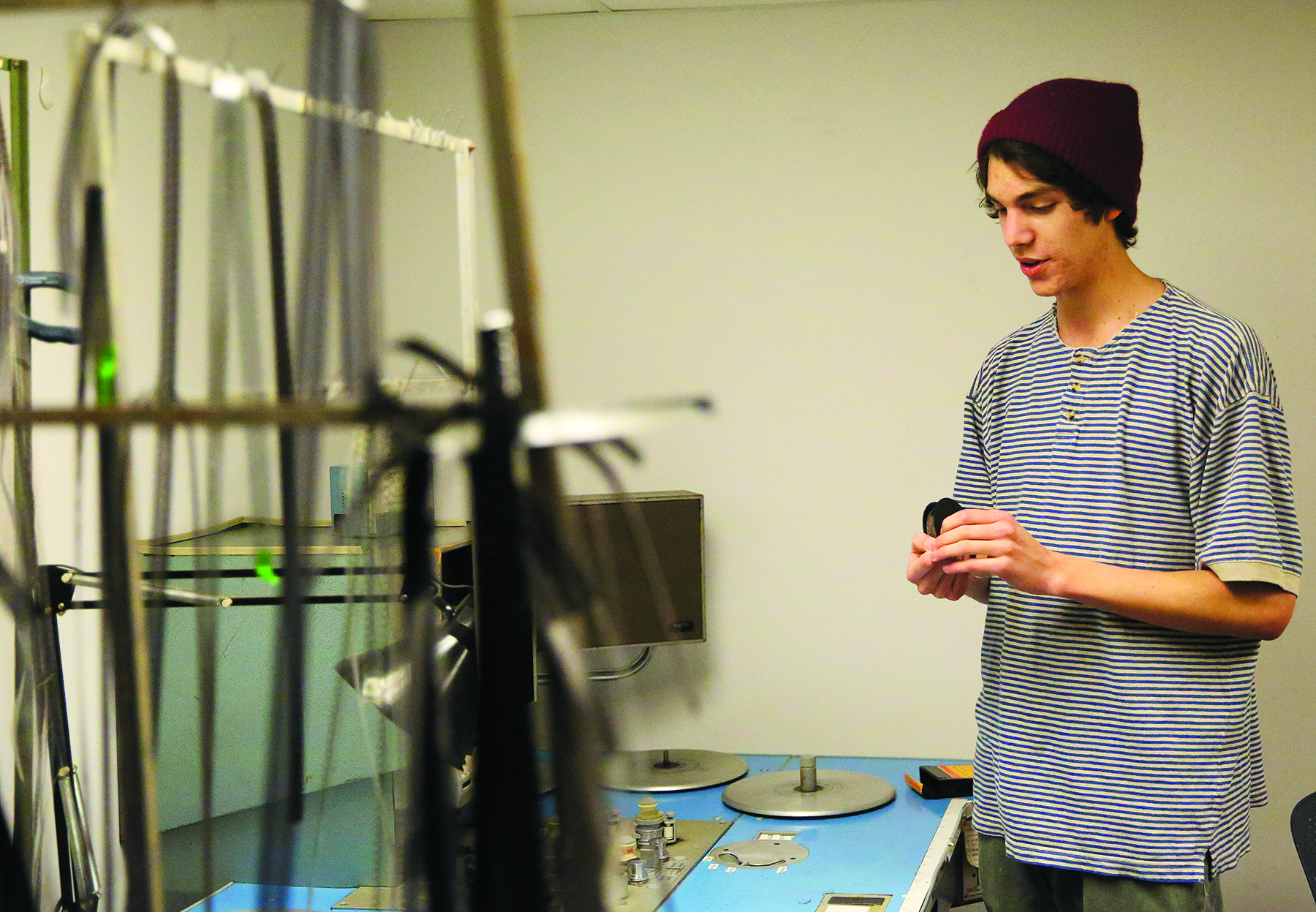 Name: Lucas Ospina
Preferred pronouns: He/him
Hometown: Louisville, CO
Division: II
Area of Concentration: Film, Creative Writing
Email address: lco12@hampshire.edu
         I came to Hampshire after going on a tour by chance. Hampshire was the most welcoming and accessible school I visited during my search, and was very transparent about a student's experience in the field that I'm working in. Hampshire was also the school that best allowed for a self-designed study plan to combine the liberal arts and a film production education in a holistic, dialectical way. Hampshire, despite having the smallest endowment of any school I visited, offered me the most financial aid, which wasn't essential to my selection process but indicated the interest of the school in having me as a student (and certainly made my parents happy). After doing an overnight stay and meeting current students, seeing student projects, exploring campus and getting a sense my program of study, I had made up my mind.

Favorite book: "Requiem" by Curtis White

Favorite class taken: Experimental Approaches to 16mm Filmmaking

Favorite project: A film preservation plan for the "The Bats" by Jim Trainor

Favorite stress buster: Listening to "Laughing Stock" by Talk Talk.

Favorite Quote: "Don't ever lie."

Favorite places to hang out in Amherst/Northampton: Sunset Farm, in Amherst Center.
---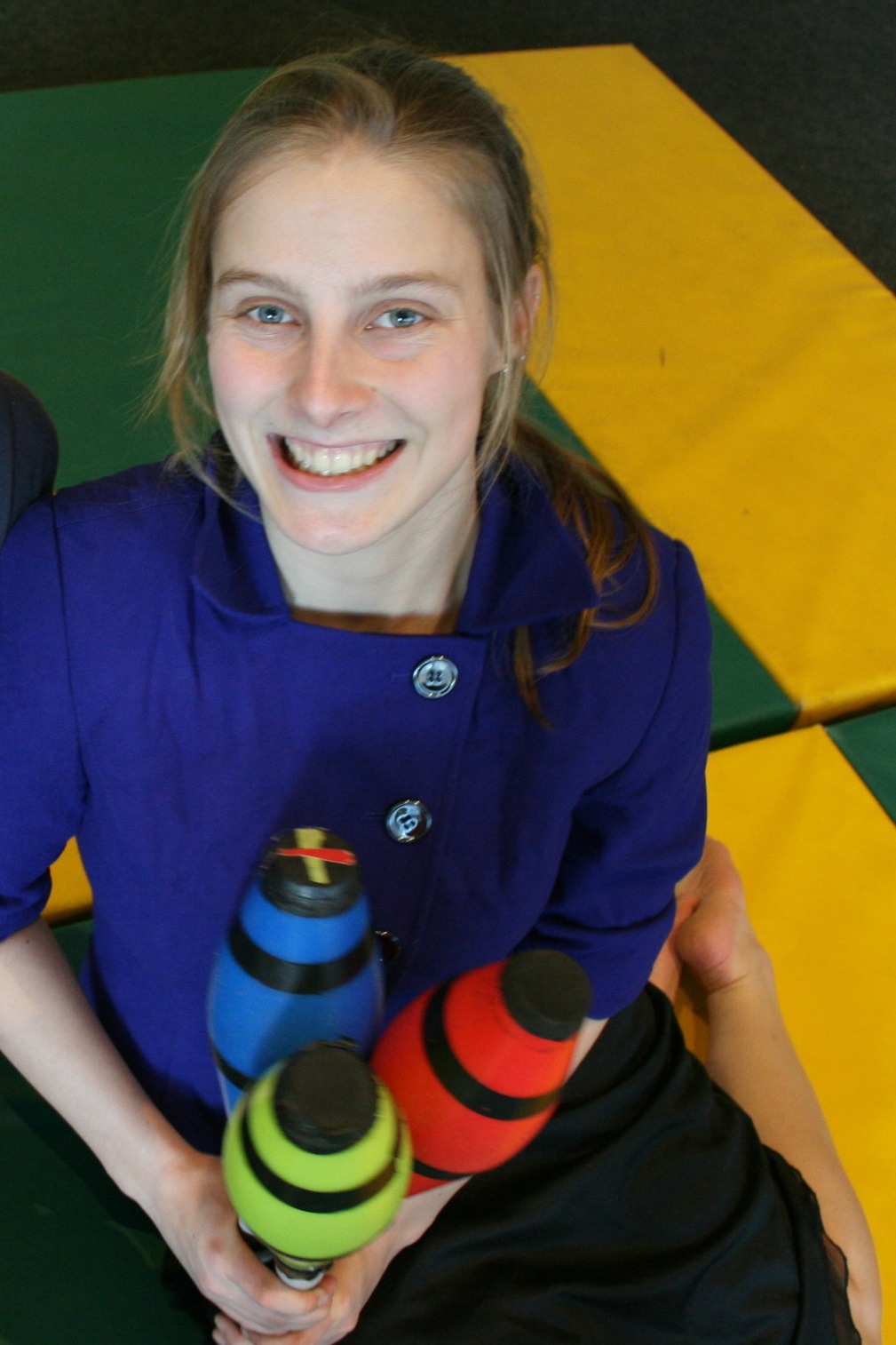 Name: Sage Campbell
Preferred pronouns: She/her
Hometown: Newburyport, MA
Division: III
Area of Concentration: Adult Education and Teaching English to Speakers of Other Languages
Email address: saac11@hampshire.edu
      I came to Hampshire because I went to a public Montessori Charter school until eighth grade where there was less emphasis on grades, and more on critical thinking, learning by doing, and making connections with peers and teachers. This was a system that I had found really worked for me. After this, I graduated and went to a traditional public school where I found that, for me, a system of grades, ranks, and competition was not a healthy system of learning and evaluation. For me, Hampshire was very much a return to home, a return to normalcy, a return to a system under which I felt more likely to thrive and feel comfortable.
Favorite stress buster: Circus! Doing it, watching it, whatever!
Dream job: Something where at least part of my job is teaching, that gives me the opportunity to travel, and lets me live in a place with good food, music, and people.
---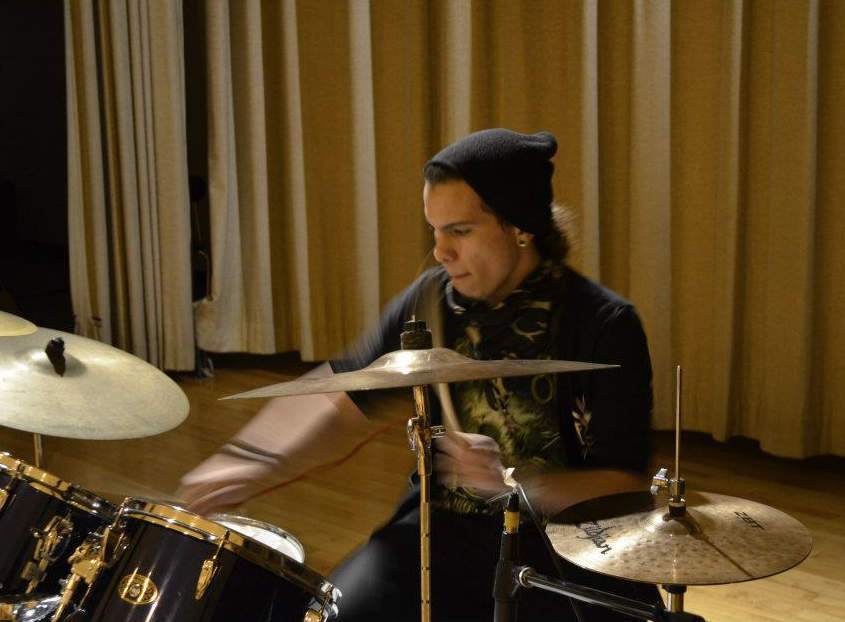 Name: Rene "Taco" Cruz
Preferred Pronouns: He/him/they/them
Hometown: New York City
Division: II
Area of Concentration: Ethnomusicology and Economics
Email: remc12@hampshire.edu
I came to Hampshire for countless reasons. The combination of being able to combine vastly different fields of interest with being in a small college with the resources of five makes Hampshire the right place for me. If I had to pinpoint one reason for why I came to Hampshire it would be because of the endless possibilities that this education offers me. Since I can explore the many different sides of economics (from macro to micro) and music (from composition to improvisation) I never feel like there is something I cannot do. My favorite course, so far, has been Applied Ethnomusicology with Becky Miller. This course offered me the opportunity to do fieldwork in the field I am pursuing (before I even graduate!). Throughout this course, students research a musical community in the Pioneer Valley and come up with a way to give back to that community (with options like organizing a concert or writing for a local newspaper!). My favorite project, although it has yet to begin, is the independent field study that I am planning for fall of 2014. For this field study I will be traveling around the Dominican Republic studying traditional and popular forms of palo in terms of musical structure, religious affiliation, and debates on appropriation. To sum myself up in one final sentence; I love music, economics, food, and talking (or answering questions) about these things so, please feel free to contact me with any questions!
---
Name: Traci Laichter
Preferred Pronouns: She/her
Hometown: Las Vegas, NV or Mt. Sinai, NY
Division: III
Area of Concentration: Accessibility in Music and Art
Email: trml11@hampshire.edu

I came to Hampshire because I wanted a change from the traditional public school education I'd received. I did well, but I felt very unfulfilled. Philosophically, I never like grades in the traditional sense. They never seemed to be a fair assessment of how well I understood the course, and they absolutely never told me what I could do to improve in that subject. I could receive an "A" and think, "Cool, I did perfectly". But that mindset is detrimental to my education. There is always room for improvement. I also never liked the idea of pitting students against each other. The change from my high school to Hampshire was the difference between, "I don't want you looking at my draft, you might take my idea!" and "Wow, what you're working on is very related to what I'm looking at for this project, want to collaborate?". I love that the emphasis shifted from competitive to collaborative, and that I'm being assessed holistically as a student, not a number. We are students; we are people; and we don't belong in "boxes".
Favorite book: Brave New World by Aldus Huxley. I love dystopian novels! Also, because I obviously can't choose one, I love: The Stranger, by Albert Camus, The Poisonwood Bible, by Barbara Kingsolver, Into Thin Air, by Jon Krakauer (a Hampshire alum!), and Never Let Me Go, by Kazuo Ishiguro (which I read for a class and fell in love with).
Favorite class taken: American Strings: Old Time and Bluegrass. I learned to fiddle with my viola!
Favorite quote: "In times of stress, the best thing we can do for each other is listen with our ears and our hears and to be assured that our questions are just as important as our answers." -- Fred Rogers
Favorite project: In my Intro to Ethnomusicology class, I did a semester-long project that focused on the Pioneer Valley house show scene. I went to several house shows, and produced an ethnography for my final project, which centered on the idea of space: the body as a performance space and the physical space as it is conducive to the shows, as well as other aspects of space (that are currently escaping me).
Favorite places go hang out in Amherst/Northampton: In Amherst, I love hanging out in the park or at a local café, like The Black Sheep or Rao's. In Northampton, I love just walking around, going into shops, listening to buskers, or again, just hanging out in the coffee shop, like the Haymarket Café. Both are great places to just be in and really experience the Pioneer Valley.
---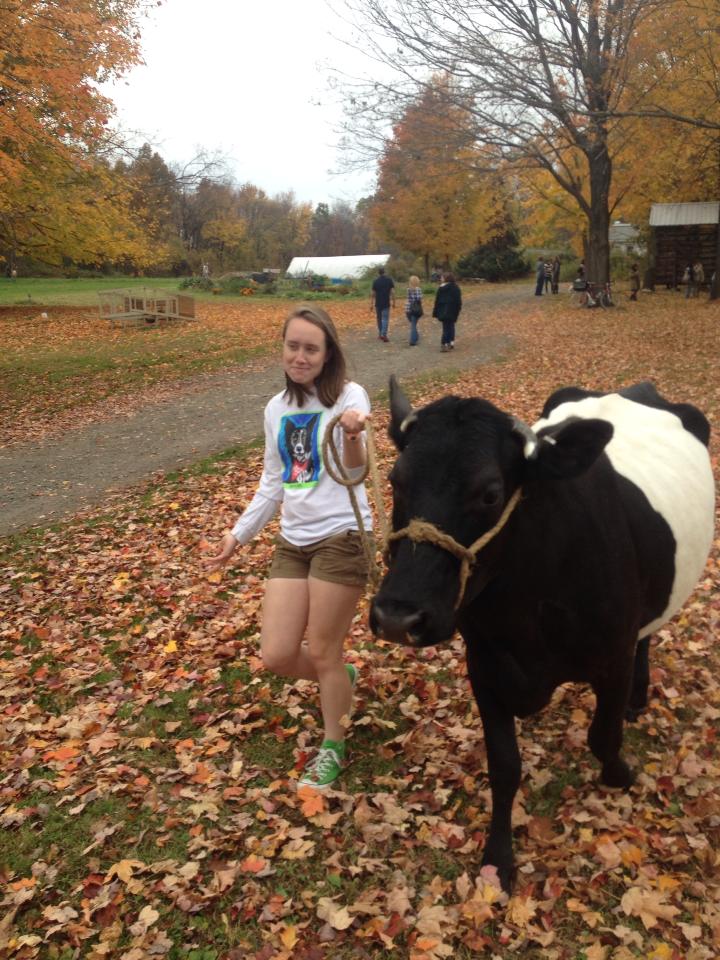 Name: Googie Daniels
Preferred pronouns: She/her
Hometown: Decatur, Georgia
Division: II
Areas of Concentration: Interpersonal Relations (Mediums of Human Communication)

I came to Hampshire because I was frustrated with the standard A, B, C grading system. And have you seen the surrounding area? It's gorgeous.
Most proud of: Greg Farley calling me by far and away his favorite young person.
Favorite book: Extremely Loud and Incredibly Close by Jonathan Safran Foer.
Favorite class: White water kayaking with Earl.
Favorite project: working with the American Sign Language Collective and various offices on and off campus in an effort to get more ASL classes and programming for the Five Colleges.
Favorite quote: "You got types?" "Only you, darling. Lanky brunettes with wicked jaws." -- The Thin Man
Dream job: Getting paid by the hour to annoy John Marty.
Favorite spots in Amherst/Northampton: Faces in Northampton, Rao's in Amherst.
---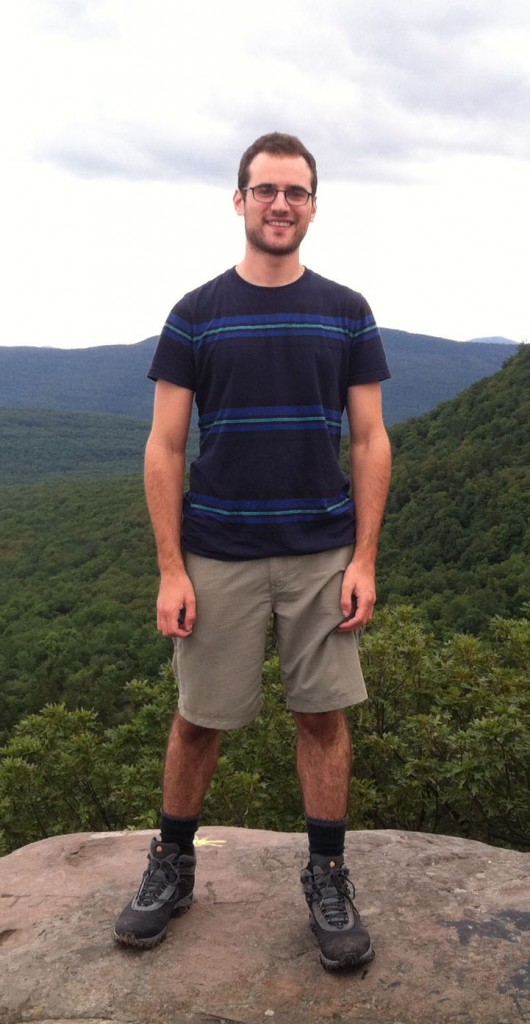 Name: Sal Migliaccio
Preferred Pronouns: He/him
Hometown: Stamford, CT
Division: Div III
Areas of Concentration: Disaster Policy and Emergency Management
Email: sam11@hampshire.edu
Honestly, my decision to come to Hampshire was a risky one--but I haven't regretted it for a second. When I was applying to schools, I had no idea what I was looking for. Small schools, big schools, public or private, East coast or West coast..it all seemed feasible. The first time I heard about Hampshire was on the Colleges That Change Lives website (CTCL.org). I was immediately intrigued by Hampshire's unique academic program which enables students to answer questions they are passionate about. After visiting, applying, and getting accepted, I came back to campus to check things out. This gave me a great image about what life would be like as a Hampshire student. This, in combination with receiving an extremely generous financial aid package, made my decision on Hampshire very clear. 
Living within this close-knit, constantly questioning community of people for the past three years has been incredible. I couldn't imagine going anywhere else.
Favorite book: Franny and Zooey by J.D. Salinger. I try to read it, or at least sections of it, once a year.
Favorite class taken: "Climate Law and Policy" has altered my understanding of the world and the topics I study more than any other class in my time at Hampshire. Because the course has a somewhat bland title, I entered the first class with some skepticism. However, I knew almost immediately that this course would a significant impact on my concentration. It was invaluable to have this course taught by Melissa Hoffer, who is the Chief of Environmental Protection Division at the Massachusetts attorney general's office (and a Hampshire alum!). There were only eight students in the class, and it was incredible to work so closely with a prominent environmental lawyer. In addition, we had a number of guest lectures speak to our class. Being able to hear real life stories about Mass v. EPA and other landmark environmental cases from the very lawyers arguing them gave brought life to the legal documents we were working with.
Favorite project: For the first half of Division III, I will be interning with Evacuteer.org in New Orleans. This is the only NGO tasked to coordinating and organizing hurricane preparedness in the city, especially the logistics of New Orleans's mandatory evacuations. Much of my concentration is grounded in understanding and remedying the nonexistent response to Hurricane Katrina. When I found this organization, I spoke with my advising committee, proposed a project idea, and did it! Diving right into the field of your concentration is the norm at Hampshire.
Favorite stress buster: Probably cooking myself an elaborate meal. There is nothing like stopping everything you're doing in the middle of finals to treat yourself with something delicious.
Favorite quote:"The era of procrastination, of half-measures, of soothing and baffling expedients, of delays is coming to its close. In its place we are entering a period of consequences." -- Winston Churchill
Dream job: It would be awesome to work for FEMA someday. If the bureaucracy proves to be too immobilizing, I'd love to work in the nonprofit sector. Working on coordinating disaster preparedness and response in any capacity would be my ideal career path.
Favorite places to hang out in Amherst/Northampton: I always like to describe Amherst as the place you'd want to study, and Northampton as the place you'd want to hang out. Rao's Coffee in Amherst is constantly filled with students who are meeting with professors, collaborating with their peers, or just finishing up a paper. Oh, and their coffee is as strong as rocket fuel! Northampton has an unbelievable amount of great music every night of the week. As the big tour stop between NYC and Boston, you're sure to find one of your favorites in Northampton. Of all the venues, the Iron Horse is the smallest and definitely my favorite.
---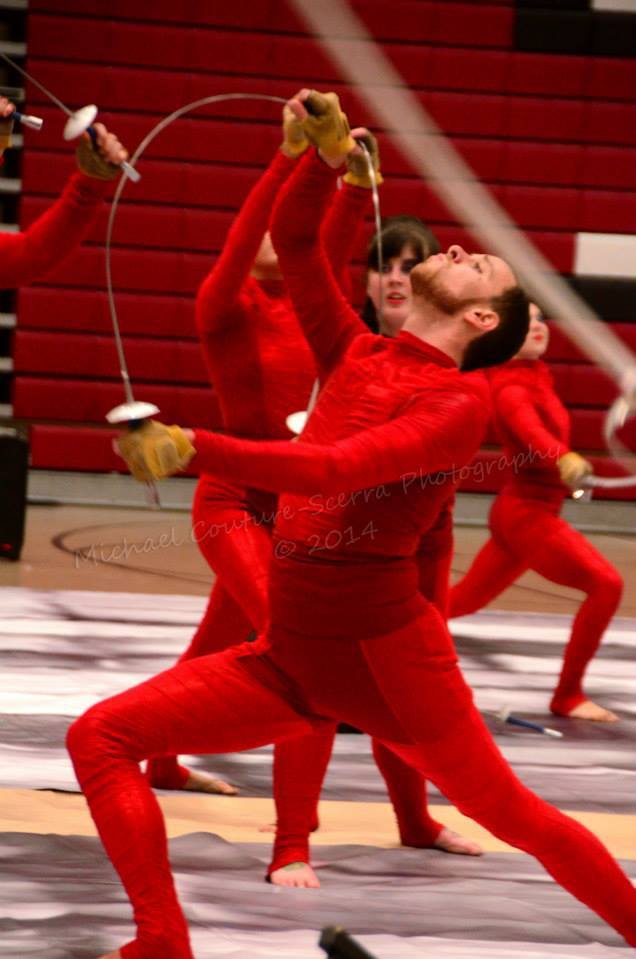 Name: Daniel Krasner
Preferred Pronouns: He/him
Hometown: Frederick, Maryland
Division: III
Area of Concentration: Creative Writing, Media Studies, Pop Culture
Email: dak11@hampshire.edu

I came to Hampshire because I wanted the individualized approach of a smaller school with the resources of larger universities. Check the Five College course catalog in order to see the massive amount of courses a Hampshire student can take each semester! With the assets of the Five Colleges combined with the self-designed divisional program at Hampshire, students can truly study whatever they want. We not only have this amazing freedom, but also the structural support and resources to back it up. At the age of seventeen, it's absurd to ask students what they want to do with the rest of their lives and expect them to have a solid answer. Most people are trying to figure it out their whole lives. I chose to come to Hampshire because I wanted to find what I was interested in and develop the skills along the way to advocate for myself, push myself, and develop myself as both a student and an individual.
Favorite book: Invisible Monsters by Chuck Palahniuk
Favorite class taken: Media Irony and Cultural Politics with Viveca Green
Favorite stress buster: Colorguard, running, swimming, dancing\
Favorite quote: "Stars should not be seen alone. That's why there are so many. Two people should stand together and look at them. One person alone will surely miss the good ones." -- Augusten Burroughs, Dry. (Burroughs iH also an Amherst/Northampton native whom I got to see in Brookline, MA at the end of my first year at Hampshire. He recently released his latest book, This is How. I have this quote tattooed on my back and asked him to sign it for me.)
Favorite places qo hang out in Amherst/Northampton: Bruegger's in Amherst, The Roost in Northampton
---
Name: Ethan Kaseff
Preferred Pronouns: He/him
Hometown: Kansas City, Kansas
Division: III
Areas of Concentration: Entrepreneurship, Happiness, Communication
Email: emk10@hampshire.edu

I came to Hampshire because it was the farthest from institutionalized education that I found. I knew that I valued education and I wanted to pursue my interests formally after high school, but the reasons that I was successful in high school, grades, etc...weren't as fulfilling as I wanted them to be. Hampshire was a place that I could thrive, and be incredibly challenged. Hampshire has pushed me beyond what I had ever expected, and I am proud, happy, and nervous to be continuing onto my Div III.

Favorite book: is The Alchemist by Paulo Coelho
Favorite class taken: The Philosophy and Science of Happiness
Favorite project: A study on business and leadership practices as seen through a Buddhist lens.
Favorite stress buster: Listening to American Beauty
Favorite quote: "A mind is like a parachute; it does not work if it is not open." -- Frank Zappa
Favorite places to hang out in Amherst/Northampton: Rao's, Haymarket, Route 9 Diner, India House, Amherst Cinema
---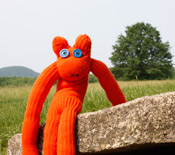 Name: Applesauce
Preferred Pronouns: They/them
Hometown: La Jolla, California

I have devoted my academic pursuits to studying the intersections of critical primate theory, gender identity, and knitting. I am currently in the throes of my Division III research; my working title is Unpacking the Sock Drawer: An Investigation of Sustainable Uses of Alternative Footwear and the Objectification of Primates.
I hail from a family of tube socks in the San Diego area. Actually, I am quite multicultural, as my mother is cotton and my father is polyester; my grandmother was composed of spandex (she's first-generation Californian and very flexible!). Hampshire students welcomed me to the community and even helped me to form the Sock Monkeys and Allies Collective (SMAC). Since moving to Massachusetts, I have become an avid Red Sox fan.
---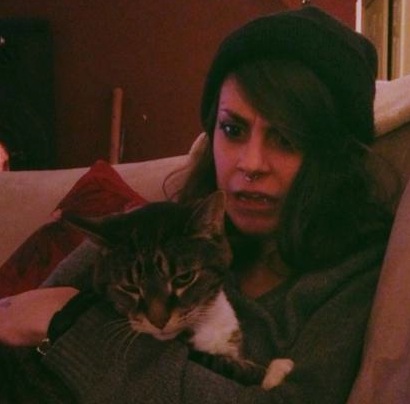 Name: Sara Coughlin
Preferred pronouns: She/her
Hometown: Wilmington, Delaware
Division: III
Area of Concentration: Writing and American Identities
Email: sec11@hampshire.edu
I came to Hampshire because I wanted to pursue my own course of study where my end goal would always be to improve upon my previous work. I was not interested in spending my college career competing with my peers--why fight for that one A in the class when we could benefit from each other's perspectives? I knew that, by attending Hampshire, I'd have the opportunity to develop my own work as a writer with the input of my fellow students and faculty advisors alike!
Favorite book: A Confederate General from Big Sur, Richard Brautigan
Favorite class taken: Americans Abroad: Travel, Empire, and the Literary Imagination, with Michele Hardesty
Favorite quote: "If you're not wearing comfortable shoes, life is just chaos." -- Cliff Clavin, Cheers
Dream job: Fiction Contributor for the New Yorker/American Studies professor/Kate Middleton 
---
Name: Kareema L. Jean-Baptiste
Preferred Pronouns: She/her
Division: III
Area of Concentration: Law and Education through the Africana Lens
Email Address: klj11@hampshire.edu
I came to Hampshire because I needed more than just a grade and a pat on the back. I wanted to feel motivated and encouraged to constantly improve. I also wanted to surround myself with people who wanted to learn for learning's sake.
Favorite Book: The Magic Toyshop by Angela Carter
Thing you've done in life that you're most proud of: Not sure yet.
Favorite Class Taken: Girls in Schools
Favorite Project: Final paper about the way prisons are portrayed through the media and how that negatively affects the anti-mass incarceration movement.
Favorite Stress Buster: Swimming
Favorite Quote: Here's to all or nothing at all.
Here's to the sick, and the shut-in.
to the was you been to the is you in
To what's deep and deep to what's down and down
To the lost, and the blind, and the almost found.
- Sekou Sundiata "Shout Out"
Dream Job: Fly girl/Soul Train Dancer
Favorite Places to Hang out in Amherst/Northampton: Amherst Glazed and High Horse
---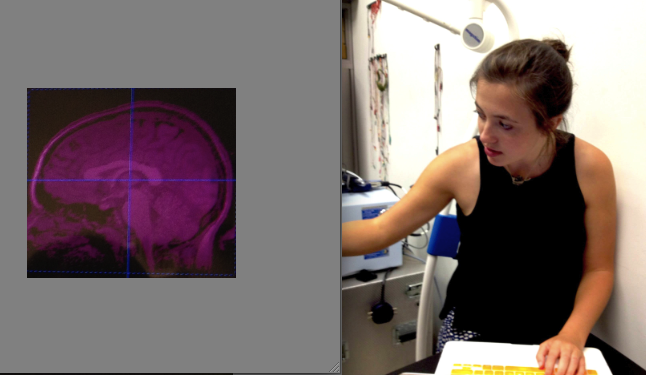 Name: Nicole DelRosso
Preferred pronouns: She/her
Hometown: Newfoundland, PA
Division: II
Area of Concentration: Integrative Brain Sciences
Email: nld12@hampshire.edu
 I came to Hampshire because Hampshire was the only place that I could come into not knowing at all what I would be studying, and leave with a clear idea and a Division III project to show for it. I decided to come to Hampshire after finding myself agreeing with Hampshire's values, and even now, after taking classes at the other 4 colleges in the consortium, I know that I made the right decision because Hampshire's educational approach is the only one that makes learning feel the most organic and is the best model for how learning ought to happen in the academic world and how it does happen outside of the academic world.
Favorite Book: Franny and Zooey, by J.D. Salinger
Thing you've done in life that you're most proud of: My funded undergraduate cognitive neuroscience research experience at UCLA.
Favorite Class Taken: My Molecular Biology class that I am taking right now. Hampshire's lab classes are radically hands on. I'm learning gene expression, cloning, and transfection techniques that most students are not even allowed to do during the beginning of their undergraduate years.I'm given the opportunity to form my own independent research questions, work with older students who TA the class who let us help them with their research projects, and finally test out research questions with the methods that I learned how to perform earlier in the semester. It's the perfect class for anyone who wants to start doing lab research early on in their undergraduate years.
Favorite Project: One that I'm currently working on with a group of other students for my Animals, Robots, and Applied Design class. Together we will be building a robotic skunk to test the research question, is the visual signal of spraying alone enough to provoke anti-predator behavior from other animals? This is by far the most interdisciplinary class I have taken at Hampshire, with sculpture, engineering, computer science, animal behavior, and neuroscience kids all in the same classroom.
Favorite Stress Buster: Taking a run through our campus' woods, making vegan food with my modmates
Dream Job: If I wasn't doing neuroscience-related work, definitely having my own molecular gastronomy restaurant.
---
At Hampshire College, we value self-expression and self-identification for all members of our community. Hampshire College expects that all members of our community will let people self-identify their gender and the gender pronouns they use to describe themselves.