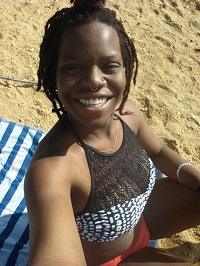 Name: Courtney Fuller
Pronouns: she/her
Home: Hartford, Connecticut.
A little about me: I'm a first generation American by way of Jamaica, an avid crocheter, and a total book nerd.
Academic work: "Feminist Science Studies"
I'm a rising third year at Hampshire (2nd year Division II) and the working title of my concentration is "Feminist Science Studies" with a focus in multimedia science modeling. In my Division II, I've been examining science as a culture within itself, and the multitude of ways it interacts with other cultures, and the fields of economics, politics, and religion. I'm playing with the idea of reintroducing science fiction and afrofuturism with mainstream science in order to add depth and see what these supposedly separate disciplines can do for each other. I also am working to use concepts of afrofuturism to further queer the ordinary, while modeling scientific phenomenon in interesting ways. My current love is playing with texture within models (fiber, crochet, wood, glass, etc.)
One thing I love about Hampshire, besides the fact that I can study what I do, is the people I have met here. The amazing professors who inspire me to be better and take me places I never thought I would go.
---
Name: Flannery Weiss
Pronouns: she/her
Home: Burbank, California (a suburb of L.A. for all the non-west coasters).
Academic Work: "The Bridge Between the Sociological and Biological Research Within Human Sexuality."
As the title of my Division suggests, I study the biological and sociological studies related to sexuality but my focus is specifically in finding ways to relate those to fields together to create a more complete picture of human sexuality as we currently understand it. This means that I study some biological science, some sexuality studies and some bio-cultural anthropology. 
Something you love about Hampshire: I love many things about Hampshire, but my favorite thing is that I have the ability to make decisions for myself regarding my education. Every part of my studies has been completely up to me and my faculty committee, which means that everything I do has relevance to my interests and my life. That kind of freedom is inspiring.
Something cool about you: I was just in Thailand riding elephants, climbing waterfalls and teaching teenagers about sexual health which is pretty cool I guess? 
---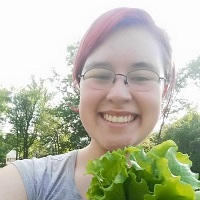 Name: Justice Erikson
Pronouns: Xe/Xyr/Xem
Home: New Hampshire and the Pioneer Valley
Academic Work: "The Chemistry and Biology of Human Health and Medicinal Herbalism"
As far as my typical courses, I study a broad array of health sciences (inc. neuroendocrinology, epigenetics, medical anthropology, etc.) and fundamental biology, chemistry, biochemistry, etc. Within this coursework I study how it applies to the practice of medicinal herbalism, with a developing emphasis on chronic inflammatory diseases. I'm particularly interested in diseases such as Lyme disease and chronic fatigue syndrome. Additionally, I'm doing some laboratory research that seeks to use molecular biology and organic chemistry to investigate the viability of certain phytotherapies. I am trying to find answers to very specific questions about all of these things. The general idea behind my current one: Can Japanese Knotweed (a weed) help treat or prevent Lyme disease? I hope to become a naturopathic physician sometime after Hampshire.
One thing you love about Hampshire: I love that I get the opportunity to do the same kind of laboratory research that most people don't get to do until grad school, and that I have the freedom and am encouraged to come up with my own unique research questions and experimental designs.
What's something cool about you? I recently joined a cyber-punk bicycle "chopper gang" where we ride modified recycled bicycles that we built that have things such colorful lights and boomboxes on them, and ride around.
---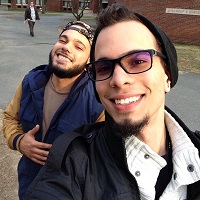 Name: Rene "Taco" Cruz,
Pronouns: He/him They/them
Home: New York City / Dominican Republic
Academic Work: "Palo in the Dominican Republic: Voodoo Music and Pop Culture"
My Division III will be looking at the correlation between economic development and the acceptability, and accessibility, of voodoo music in the Dominican Republic. Using the economic data and field recordings that I have gathered, I hope to follow the acceptance of traditional culture throughout the country; as well as the transition of voodoo music, from traditional to popular. Finally, I will be inviting a group of voodoo musicians from Dominican Republic, to perform at Hampshire College.
Something you love about Hampshire: I love that Hampshire doesn't set barriers, allowing me to study something wild like voodoo music, while gaining the same economic and music theory knowledge as a traditional major system. 
Something cool about you: Since coming to Hampshire, I have been able to learn and perform rhythms from West African pop, to Japanese taiko, and even, of course, Dominican voodoo.
---

At Hampshire College, we value self-expression and self-identification for all members of our community. Hampshire College expects that all members of our community will let people self-identify their gender and the gender pronouns they use to describe themselves.