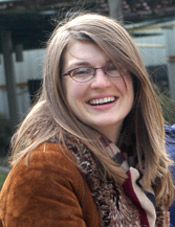 Division III Concentrations: Fiction, Neurobiology, Psychology of Trauma on Children

Taliesin Nyala came to Hampshire with high expectations."I read about Hampshire in the book Colleges That Change Lives. I really liked Hampshire's education philosophy, the way it challenged students," she says.

Nyala transferred to Hampshire from Rio Salado College in Tempe, Arizona.
Her divisional work combined the study of creative fiction and non-fiction writing, neurobiology, and psychology.
Create New Knowledge
For her Division III (Senior) Project, "I studied the neurobiology and psychology of abuse on children," she says. "I also wrote a novella that's loosely based on a biblical account of child sacrifice. Then I wrote a non-fiction essay that merged the novella and my research into one piece."

Nyala's committee consisted of professors Rachel Rubinstein, Rachel Conrad (co-chairs), and Deb Gorlin, co-director of the Writing Center. "They were phenomenal in terms of being resources, mentors, and colleagues," Nyala says. "I felt very much like they were having a dialogue back and forth about the things I was learning and studying."

After graduating from Hampshire, Nyala accepted a position in the media relations department at Mount Holyoke College. Her Hampshire education distinguishes her from her predecessors.
"I just had my first job review, and my boss told me, 'This is an entry-level position; I never expected someone to do as much as you have done,'" she says.
"I've taken everything I've learned at Hampshire and been able to grow and build on it."