Student Highlights

Expect More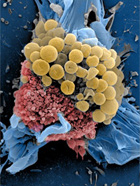 Andrew Paul Leonard combines science with art to produce stunning photographs of the microscopic world. Photos by Leonard have graced Time magazine's cover and been chosen among the best photos of the year.
New Media

Alex Rivera uses film and new media to explore issues that shape our world.
Hampshire alumni take on challenges--and the world--with skills and abilities that work across fields and in any environment. An education shaped by a student's own interests produces remarkable results:
Ian Spalter, director of design and experience at Foursquare, was recently named to Fast Company's 2013 list of the 100 Most Creative People in Business.
Lupita Nyong'o is receiving Oscar buzz for her role in the film Twelve Years a Slave. A filmmaker and actress, Nyong'o documentary, In My Genes, was selected as the opening event of the 2010 touring New York African Film Festival. Nyong'o also starred in the MTV drama, Shuga.

Guitar Zero by neuroscientist Gary Marcus is #2 on the "Best Music Books of 2012" list by Brain Pickings. Marcus, director of the NYU Infant Language Learning Center and professor of psychology at New York University, is also author of Kluge: The Haphazard Construction of the Human Mind, The Birth of the Mind: How a Tiny Number of Genes Creates the Complexities of Human Thought, and The Algebraic Mind: Integrating Connectionism and Cognitive Science.

Journalist Seth Freed Wessler was awarded a 2012 Hillman Prize for his "Shattered Families" investigation, which examined deportation and child welfare.
Physicist Lee Smolin is one of the world's leading gravitational theorists and author of The Life of the Cosmos, Three Roads to Quantum Gravity, and The Trouble with Physics.
Author Leah Hager Cohen's nonfiction works include Train Go Sorry: Inside a Deaf World; Behind the Curtain of an American Community Theater; and Without Apology: Girls, Women, and the Desire to Fight. Her novels include Heat Lightning; Heart, You Bully, You Punk; House Lights; and The Grief of Others.
Josh Goldman, founder and CEO of Australis Aquaculture, is an internationally recognized leader in the sustainable seafood movement.

Melissa Hoffer represented detainees held at Guantánamo and is among the attorneys who contributed powerful personal narratives to the book The Guantánamo Lawyers.

Research scientist Walter Greenleaf specializes in neuro and cognitive rehabilitation. Viewed as a founder of the medical virtual reality field, he is considered a pioneer in the application of virtual environments for treatment of a wide range of neuromuscular, cognitive, and behavioral disorders. Currently, Greenleaf is a senior research scholar and director for the Mind Division at the Stanford Center on Longevity.
Artist E.V. Day's installations have appeared in prominent museums and galleries throughout the United States and internationally for the past decade.
Gary Hirshberg founded Stonyfield Farm, the world's leading organic yogurt producer. The co-founder and Chairman of Stonyfield Farm speaks frequently on sustainability, climate change, the profitability of green and socially responsible business, organic agriculture, and sustainable economic development. He is author of Stirring It Up: How to Make Money and Save the World.
Sarah Goldfinger is a television writer and producer. Credits includes CSI: Crime Scene Investigation, Brothers and Sisters, and Hawaii Five-O; she is also a consulting Producer for NBC's Parenthood.
Nancy Grimm, a past president of the Ecological Society of America, is a senior sustainability scientist at the Global Institute of Sustainability, and co-directs the Central Arizona-Phoenix Long-Term Ecological Research Project.

Dr. Miriam Cremer founded Basic Health International, a leading voice in the fight to eradicate cervical cancer in El Salvador.
Actor Liev Schreiber is known both for his work in films--Daytrippers, Defiance, The Painted Veil, X-Men Origins: Wolverine, and Taking Woodstock--and on stage. The Tony and Obie Award recipient has been called "the foremost Shakespearean actor of his generation in America."  He is currently starring in the Showtime series Ray Donovan.
Paul Sternberg was elected to the National Academy of Sciences in 2009. His research has helped develop new insight into the molecular circuitry of cancer cells.

Dr. Vanessa Northington Gamble is one of six distinguished women who received 2009 Women Leaders in Medicine Awards from the American Medical Student Association.

Florentine Films has produced some of the most honored documentaries ever made:
Roger Sherman's documentaries have been honored with a host of accolades, including a Peabody Award, an Emmy Award, and two Academy Award nominations. Currently, Sherman and chef Michael Solomonov are producing a television series for PBS exploring Israel through its food.
Buddy Squires is an Oscar-nominated filmmaker and Emmy winning director of photography. In 2007 he was awarded the International Documentary Association's Outstanding Documentary Cinematography Award (career achievement).
Ken Burns films include the Civil War (two Emmys, two Grammys, and a Peabody), Baseball, Jazz, The War, National Parks, and The Dust Bowl. In 2008, the Academy of Television Arts and Sciences honored Burns with a Lifetime Achievement Award. His recent film, The Central Park Five, won the 2012 New York Film Critics Circle award for Best Non-Fiction Film (Documentary).
Documentary filmmaker Rob Epstein's credits include two Academy Awards, for The Times of Harvey Milk and Common Threads. His latest films include Howl and Lovelace.

Pulitzer Prize-winning journalist Edward Humes is author, most recently, of Garbology. His best-selling books include Eco Barons, Force of Nature, Monkey Girl, No Matter How Loud I Shout, Mississippi Mud, Mean Justice, and Baby E.R.

Jon Krakauer is author of Where Men Win Glory: The Odyssey of Pat Tillman, Into Thin Air, Into the Wild and Under the Banner of Heaven.

Former Alaska Writer Laureate Nancy Lord's latest book, Rock Water Wild: An Alaskan Life, is a collection of environmental essays.

No Man's Land, a collection of essays on race by Eula Biss, won the Graywolf Prize for nonfiction and the National Book Critics Circle Award in criticism.

Jeff Sharlet wrote C Street and The Family: Secret Fundamentalism at the Heart of American Power. He co-authored Killing the Buddha: A Heretic's Bible, named by Publishers Weekly as one of the ten best religion titles of 2004.

Lê Thi Diem Thúy, award-winning poet, novelist, and performer, and author of The Gangster We Are All Looking For, was named a 2008 USA Fellow in literature.

Jeffrey Hollender co-founded Seventh Generation, the country's largest distributor of nontoxic, all-natural cleaning, paper, and personal care products.

Aaron Lansky, recipient of a 1989 MacArthur Fellowship, founded the National Yiddish Book Center, which has in the past three decades rescued a million endangered Yiddish books. He is the author of Outwitting History.

Playwright Naomi Wallace (One Flea Spare, Slaughter City, and The Trestle at Pope Lick Creek) was a 1999 MacArthur Fellowship recipient. She recently won the Donald Windham-Sandy M. Campbell Literature Prizes for literary achievement.
Artemis A.W. Joukowsky is a socially conscious venture capitalist, entrepreneur, and nonprofit activist. Watch related video »

Awards and Higher Degrees
Hampshire graduates have won numerous prestigious academic fellowships, including 15 Fulbrights in the past 10 years alone.
Interested in history? According to data compiled for the most recent national Weighted Baccalaureate Origins Report (2000-2004), Hampshire College is number one in the percentage of its graduates who have earned Ph.D.s in history, when figures are adjusted for institutional size.

That same report shows Hampshire at 16th in percentage of graduates who have earned Ph.D.s in sociology, and 20th in anthropology.
Hampshire is 30th in the percentage of its graduates who have earned Ph.D.s in all fields combined. Data for the Report is drawn from two sources, the National Science Foundation and the Higher Education Data Sharing Consortium.
Hampshire College is among the top 50 schools whose graduates went on to receive a Ph.D. in science or engineering, according to a 2008 report by the National Science Foundation.
Student Highlights

Expect More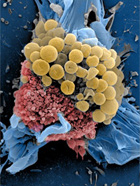 Andrew Paul Leonard combines science with art to produce stunning photographs of the microscopic world. Photos by Leonard have graced Time magazine's cover and been chosen among the best photos of the year.
New Media

Alex Rivera uses film and new media to explore issues that shape our world.