Assistant Professor of African American Studies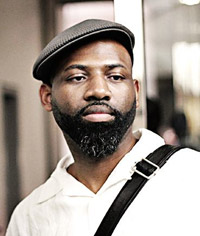 Christopher Tinson, assistant professor of African American studies, earned a Ph.D. from the W.E.B. Du Bois department of Afro-American Studies at the University of Massachusetts Amherst. He holds an M.A. in ethnic studies from San Francisco State University and a B.A. from California State University, Dominguez Hills.

His interdisciplinary research and teaching focuses on the intersections between Africana radical traditions, U.S. ethnic studies, hip-hop culture, critical media studies, incarceration, community-based education, and race and sports. His writings have been published in The Black Scholar, The Journal of African American History, The Nation, and Radical Teacher. He currently resides in Holyoke, Massachusetts and has conducted workshops at various college campuses, high schools, and juvenile detention centers in the area, and serves as a youth mentor. Since 2006 he has hosted TRGGR Radio, a Hip-Hop-rooted social justice radio program.

His recently taught courses include Cultures of the African Diaspora, Black Radicalism in the U.S. and Beyond, 1960s and 1970s; and Framing Blackness: African Americans and Mass Media in the U.S. In addition to establishing an introductory African American Studies course, his new courses include: The Life and Imagination of W.E.B. Du Bois; Warfare in the American Homeland: Policing, Imprisonment and the Politics of Control; and African Americans and the Politics of Reparations.
Professor Tinson will be on sabbatical leave for spring 2016.
Custom Ads
+

–

The World of W.E.B. Du Bois
+

–

African Americans and the Politics of Reparations
+

–

Warfare in the American Homeland
+

–

Slavery & Abolition in the Americas
+

–

Black Power/Arts
+

–

Cultures of the African Diaspora
+

–

Framing Blackness: African Americans and Mass Media