Senior Faculty Associate for Design and Innovation for Social Change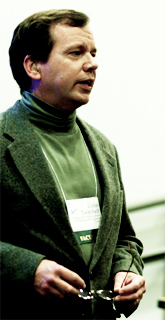 Colin Twitchell is a senior faculty associate of design and innovation for social change in the School for Interdisciplinary Arts at Hampshire College. Twitchell is a Hampshire graduate and has extensive experience in applied design, invention, and social entrepreneurship.
Over the last 30 years Twitchell has worked for the Massachusetts' Adaptive Design Services and the Institute on Applied Technology at Boston Children's Hospital; created the equipment adaptation techniques and instructional methodology used by the American Canoe Association's Adaptive Paddling Certification Program; founded Ergosport, a recreational equipment development and manufacturing company; and was the founding director of the Hampshire College Lemelson Center.
Over the last 15 years, Colin has been involved with the start up of over two dozen student and alum conventional and social enterprises.
Additionally, Colin and his students' designs have been exhibited at the United Nations and the Smithsonian Museum of American History.