Five College Assistant Professor of Environmental Design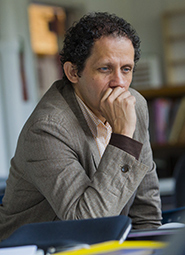 Gabriel Arboleda, Five College assistant professor of environmental design, holds a PhD in Architecture from UC Berkeley (Environmental Design in Developing Countries), a SMArchS from MIT (Architecture and Urbanism), and an Architect's diploma from the Universidad del Valle in Colombia.
Gabriel is an architectural researcher and practicing architect. Both interests combine in the form of research of practice, and practice as research. His work mostly focuses on Latin America and the Caribbean, and explores the new frontiers of participatory design and planning, politics of sustainable design, ethnography of architecture, sanitation in developing countries, and alternative materials, methods, and technologies for low-income housing.
Gabriel's portfolio of practice can be accessed here. Some of his written work is available here.