Visiting Assistant Professor of Animal Behavior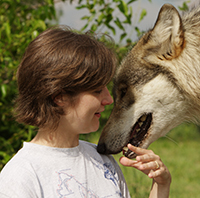 Kathryn Lord, visiting assistant professor of animal behavior, received her B.A. from Hampshire College, and M.S. and Ph.D. in organismic and evolutionary biology from The University of Massachusetts, Amherst.
Her main interest is in the evolutionary development of animal behavior, as well as its application to the management of domestic and wild species.
She has accomplished this research by investigating the origin of behavioral differences between the species, subspecies, and breeds of the genus Canis. 
Photo by Monty Sloan