Visiting Assistant Professor of Social Entrepreneurship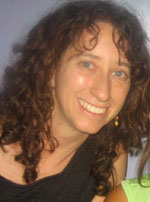 Dr. Tamara L. Stenn is a visiting professor of social entrepreneurism and a scholar of sustainable development. She is the author of The Cultural and Political Intersection of Fair Trade and Justice; Managing a Global Industry (Palgrave, 2013). This book is a comparative study of Andean women working in Fair Trade handicrafts and coffee exploring topics of feminism, leadership, consumerism, indigenousness and well-being.  

Stenn graduated from the University of Maryland with a B.S. in journalism in 1988. The same year she founded New Visions Advertising, one of the Washington, D.C. area's first "green" companies, using recycled papers, soy inks, digital production, and micro-targeted campaigns to minimize waste. In 1996 she joined the U.S. Peace Corps, Bolivia, to expand her cultural horizons and language skills. Stenn specialized in enterprise development and founded Bolivia's first monthly rural newspaper, NOTICIAS Cono Sur. In 1999 Stenn returned to the US to earn a Masters in Intercultural-International Management at the SIT Graduate Institute. Here she established KUSIKUY Clothing Co., (www.kusikuy.com) a Fair Trade, eco-ethical, alpaca knitwear company with production in Bolivia and Peru and sales worldwide.
In addition to business development, Tamara also conducts corporate training in areas of motivation and team-building and teaches management, sustainability and economics at regional universities such as UPB and Uni Valle in Bolivia and the SIT Graduate Institute, Antioch University of New England, and Keene State College in the US. In 2011, Tamara completed a doctorate in leadership at Franklin Pierce University, coupling anthropology with economic theory and practice to examine the impact of Fair Frade on indigenous women. Tamara's areas of academic interest include solidarity economy, Andean ways of being, and sustainable development. 
She is a candidate for a Fulbright Grant to study the impact different methods of quinoa production; organic, conventional and Fair Trade have on Bolivia's indigenous women and families. Bilingual in Spanish and well-versed in Andean traditions, Tamara is also an avid runner, painter, and enjoys raising her family's own food. 
Business/Entrepreneurship