Visiting Assistant Professor of Theatre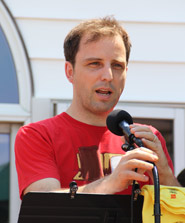 Will MacAdams, visiting assistant professor of theatre, received his B.A. from Yale University and his M.F.A. in theater directing from Columbia University. He has taught in CUNY's Center for Worker Education, Barnard College, high schools, after school programs, and in the juvenile justice system.
Past projects include: Flor, created with families of agricultural workers and Dust Bowl migrants in the California Central Valley (Cornerstone Theater; playwright); the Black Dirt Cycle, a series of three site-specific plays created with farmers, farm workers, and performers for the Warwick Summer Arts Festival (playwright, director, performer); Peter Handke's Kaspar, performed by theater students in Johannesburg at the beginning of the Mandela era (director); Eye to Eye, an original play about race and youth-police relations, created with future police officers and young people from New Haven, CT (director); and Cruising the Divide, an interview-inspired play about the divides of race and class during the celebration of the Kentucky Derby (Actors Theater of Louisville's Apprentice/Intern Company; playwright).
He is a past recipient of the Rockefeller Foundation's Next Generation Leadership Fellowship, a civil rights award from Louisville's Carl Braden Memorial Center, and a Bates Fellowship, which brought him to Central Java, Indonesia to train in Javanese Shadow Puppetry.