Division III Exhibits in December
Tracy Seigle: December 1-5, 2008
Joshua Truitt: December 6-10, 2008
---
Tracy Seigle: December 1st - December 5th, 2008
Closing Reception: Friday, December 5th, 6 - 9 p.m.
Swimming & After the Last Breath, a photographic installation & exhibition by Tracy Seigle 
Beneath the Surface
By Tracy Seigle

My limbs glide through water, propelling my body further, deeper. Breathing becomes purely voluntary, a forced and focused action that requires my full attention. Between breaths, I notice all around me these spiders of light, shapes of moving, crawling light. But these colors and this light are not a swimming pool. 
This is not the cold, steely blue of chlorine and harsh fluorescents overhead. But this is, or may be, the buttery yellow light of a warm summer afternoon, and the lush green of tall grass refracted in a stream. This could be the forsythia bush and the lilac trees that line the pond, or the reflection of a perfectly blue sky and mid-October foliage in the reservoir. This might be the late December sunset, or the early November burnt leaves or the spring gardens or winter chill penetrating a lake. This is possibly the coral of the ocean and the underwater plant life of a brook. But this is definitely not the air or my lungs or the breath I take when I lift my head out of the too-clean water and gasp a much-needed breath into my already tired and aching lungs.

After such repetitive breathing, inhaling and exhaling seemed extraneous and the light became too seductive to resist. I wanted to intensify these colors and light, to find a place where my consciousness would not assign names and labels to what I saw, and my lungs would just rest and be at ease. I wanted - needed - a way to just see and experience. But these colors and these images are not death. This is not heaven or hell or my life flashing before my eyes.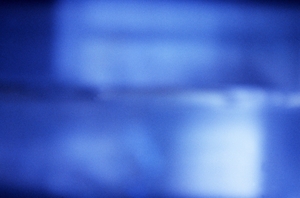 This is not a body growing into the ground or flesh becoming ash. This is, or may be, that moment of transition from lucidity to unconsciousness, or the knowing that this is about to be the end. This is possibly giving in to the allure of light we cannot see and colors we cannot touch, or the irresistible curiosity to take a liquid breath and translate it into something tangible. This might be the result of the last transmission between synapses and the final firing of neurons, slow and tired and confused from lack of air. This could be my lungs, swollen with colors as I expel those last precious molecules of carbon dioxide. But this is definitely not the expiration of a body or being, or the mind or soul existing in an afterlife.
---
Joshua Truitt: December 6th - 10th, 2008