In the Gallery: February 16-26, 2008
Arthur Ashe, Althea Gibson, and the Royalty of the Colored Court: 
A photographic history of the private tennis and country clubs founded by and for Black Society
 The American Tennis Association (ATA) is the oldest sports organization formed by African Americans in America. Established in 1916 to nurture African-American athletes and to enable them to participate in tournament tennis, the ATA at its height had 150 clubs across the country and produced two world champions, Althea Gibson and Arthur Ashe. Yet few people know the full story of the origins and history of the ATA.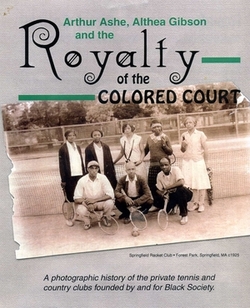 Art Carrington is working hard to change that. A tennis teacher who runs the Art Carrington Tennis Academy at Hampshire College, he has spent years researching and collecting primary source materials on the ATA.
He has assembled a collection of primary articles from 1909 until 1962 when Arthur Ashe (coincidentally, Carrington's former practice partner) won his third national ATA championship; in 1963 Ashe was the first African American ever selected to the U.S. Davis Cup team.
The work is deeply personal for Carrington, who is himself a former ATA national singles and doubles champion.
In celebration of Black History Month and working in collaboration with the International Tennis Hall of Fame & Museum, Carrington is bringing a special exhibit on "The History of African-American Tennis, 1890-1975," to the Hampshire College Gallery from February16-26. Carrington will speak at the opening reception on Saturday, February 16, from 4:00-5:30 p.m.
In addition to Carrington's collection of original source materials, a traveling exhibit from the Tennis Hall of Fame will be on display. Carrington is co-curator of the Hall of Fame exhibit Breaking the Barriers: The ATA and Black Tennis Pioneers, which consists of photographs, newspaper accounts, and video depicting the origins and history of the ATA and the unheralded champions of early African-American tennis. Timelines depict the history of African-American tennis paralleled with Civil Rights history, providing social context from 1890 to 1975. As Gary Cogar, Hall of Fame museum director has said: "It's not just an exhibit about tennis. It's about fairness and equal opportunity."
Art Carrington will talk about the exhibit at the opening reception: Saturday, February 16, 4:00-5:30 p.m.
Gallery Hours
Monday through Friday: 10:30-4:30
Sunday: 2-5 pm
Usually closed Saturday