Selections from the Hampshire College
Permanent Collection
July 18-August 15, 2008

Hampshire College is pleased to exhibit Selections from the Hampshire College Permanent Collection in its Main Gallery through August 15th,
2008.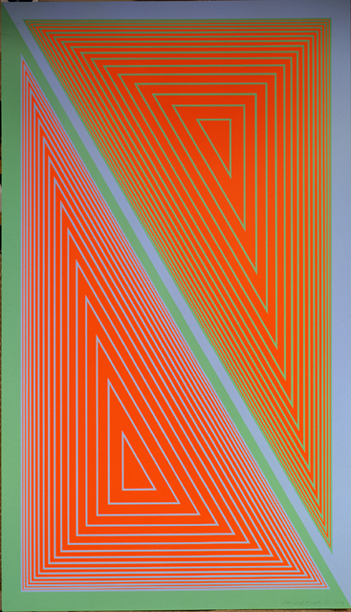 The permanent collection at Hampshire College is a small and eclectic group of objects, most of which were donated in the early years of the institution (1970s) by founding donors. 
Hampshire has never had an acquisitions fund for the purchase of art, so almost everything in the collection was a donated gift to the college; hence, there are many pieces that reflect the period of the 60s-70s, when Hampshire was new. 
The Op-Art period is represented by four large silkscreen prints by Richard Anuszkiewicz; and there are two wall sculptures by Paul Zelanski, examples of his molded resin studies of color and space; and an etched glass cube by Larry Bell. 
There are prints by Man Ray, watercolors by Leonard Baskin, photographs by Hampshire Professor Emeritus Jerome Liebling, and paintings and works on paper by various twentieth-century artists. 
There is also a selection of Ashanti gold weights which are rarely displayed. These are tiny sculpted objects, some abstract forms and some representational, which were used to measure gold dust, which was currency in 18th and 19th century Africa.