METTLER DANCE: An exhibit of historical photographs and artworks from the Barbara Mettler Archives at Hampshire College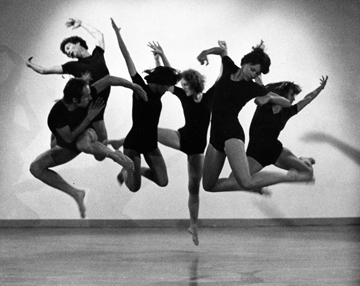 "Leaping Dancers, Tucson, 1979," Photographer: Gene Einfrank
This summer, the International Association for Creative Dance will hold its 14th Annual Creative Dance Congress at Hampshire College, June 14-26, 2009. In conjunction with the congress, the Hampshire College Gallery presents a show of photographs and artworks from the Barbara Mettler Archives.

Barbara Mettler (1907-2002), dancer, dance educator, author, and film and video producer, developed her own style of modern dance, which emphasized improvisation. Her core principles were beauty, freedom, and democracy. Dance was conceived as a fundamental human activity, of which all people are capable, as opposed to an elite, choreographed, performance art. She taught widely, to diverse lay people, including adults, children, and the handicapped, primarily from her own Mettler Studios. She established the Tucson Creative Dance Center in 1963, where she taught summer and winter workshops. She was also invited to teach workshops around the U.S. and in Europe. Throughout her career, Mettler wrote books and articles and produced films and videotapes detailing her methods of dance instruction. Barbara Mettler died in 2002, and willed her archives to Hampshire College. Her students later formed the International Association for Creative Dance to carry the principles of her work forward.

In addition to a range of photographs by a number of photographers, known and unknown, are five early works by American artist Fairfield Porter, a childhood friend of Barbara Mettler. These previously unknown works by Porter are from early in his career (1924, 1928) and may offer some new insight into the later works for which he is well known.  

The exhibit will be up through July 10, 2009. Gallery hours are Monday through Friday, 10:30 a.m.-4:30 p.m.

For more information, contact Susan Dayall at 413.559.5761.