Hampshire College Art Gallery Announces the Opening of "Fully Saturated," Featuring New York-based Artists Julie Gross, Jim Osman , and Scott Reeds, curated by Scott Reeds. March 2-31, 2009. Opening Reception, March 4, 2009, 5-7 p.m.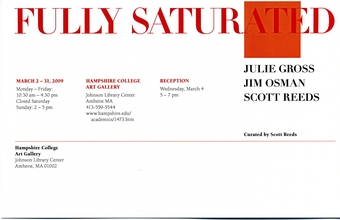 Rarely unencumbered by theory, judgment or agenda, the question of color--how to use it, when to use it, whether to use it-is often freighted with meaning. But for the three New York-based artists whose work is included in the upcoming Hampshire College Art Gallery exhibition "Fully Saturated"--Julie Gross, a painter, Jim Osman, a sculptor, and Scott Reeds, a printmaker--color is less about principles than possibilities. 
Despite their different interests, mediums, and styles, all three artists push the potential of their materials and processes to explore the heightened sensation of color and its relationship to form. 
Julie Gross leverages the interplay of color and form to create paintings that pulsate with surprise and movement. Turning color into a physical presence, Jim Osman challenges the viewer's understanding of space and form. Scott Reeds pushes his materials to manifest color as a visceral experience. 
"Fully Saturated," on view in the Hampshire College Art Gallery from March 2-31, 2009, was curated by former visiting assistant professor of art Scott Reeds. An illustrated catalogue accompanies the exhibition. 
All three artists will be present at the Opening Reception scheduled for Wednesday, March 4 from 5-7 p.m. Regular Gallery hours are Monday-Friday, 10:30 a.m.-4:30 p.m. and Sunday, 2-5 p.m.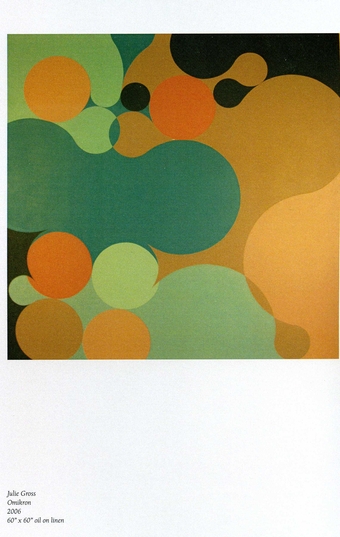 About Julie Gross: Julie has a B.F.A. from Pratt Institute and an M.A. from Hunter College. She has received grants, fellowships, and residencies from the National Endowment for the Arts, CAPS, Yaddo, The MacDowell Colony, and The Pollock-Krasner and Edward F. Albee Foundations, among many others.
Julie's work, which has twice been featured in New American Paintings, has been widely reviewed and exhibited around the world and is represented in more than 40 public, and numerous private, collections in the US and Europe. Julie has taught at various institutions since 1972 including Parsons, FIT, RISD, Pratt Institute, and the Center for Advanced Design in Kuala Lumpur.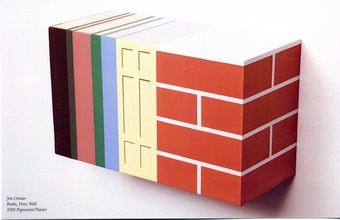 About Jim Osman: Jim shows his sculpture, which combines ideas of painting and design with architecture, at the Lesley Heller Gallery in New York. His work has been exhibited broadly, and was recently featured in a series of site-specific public art projects in Ghent, Belgium. Jim has taught at Parsons The New School for Design since 2001, where he is currently an assistant professor, and was a Hampshire College Guest Artist in 2004. 
Born and bred in New York City, he received his B.A. and M.F.A. from Queens College. Jim has had residencies at The MacDowell Colony and Yaddo, and received grants from the Brooklyn Arts Council.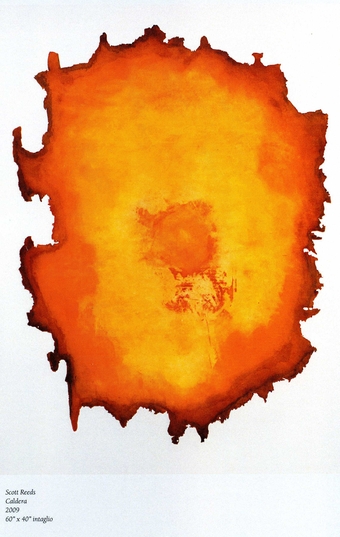 About Scott Reeds: A former visiting assistant professor of art at Hampshire College, Scott has maintained a studio in New York City for more than twenty years. His studio work is in both printmaking and painting.
He received a B.F.A. from the University of California at Berkeley and an M.F.A. from Yale, and has received fellowships from the National Endowment for the Arts and the New York Foundation for the Arts.
His work has been exhibited throughout the U.S. and abroad, and is included in the collections of the New York Public Library, The Library of Congress, and the Brooklyn Museum. Scott is currently teaching at Trinity College in Hartford, Connecticut.
Hampshire College Art Gallery is located in the lower level of the  Harold F. Johnson Library Building, Hampshire College.