---
Closing Reception: Saturday, November 8, 5-7 p.m.
Extended Gallery hours for this exhibit:  Monday - Friday, 10:30 a.m.-4:30 p.m.; Saturday, 1-7 p.m.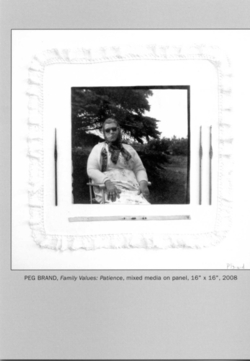 Family Values series (mixed media on panel, 2008)
and Picture Yourself Here series (oil on foam board)
These days there's a lot of talk about so-called "family values," as if one must be a member of a specific religion or political party in order to have a monopoly on them. On the contrary, family  values can originate anywhere and can be genuine, positive, and long-lasting. These works are a way to pay tribute to family  values, in two ways.

My grandparents taught by example: first, curiosity (moving from Chicago to the middle of Wisconsin when their children were grown), then open-mindedness, respect, and compassion (helping the natives on an Indian reservation nearby). My grandmother hand-crocheted lace edging for handkerchiefs; my mother sewed most of my clothes growing up; together they taught patience and perseverance. My father worked hard and strongly believed in equality; he taught me there was nothing a girl could not do as well as a boy. My granddaughters love to learn and laugh; they lent a hand in the creation of this art and taught, by example, to experiment and have fun.

My grandfather and father served in the military and all my uncles, except one, returned home from service in World War II. My friends served in Vietnam and now my students serve in Afghanistan and Iraq.
Whatever our views, we all share family values. I started painting at age 10. For eight years, I learned from a talented woman who had studied at The Art Institute of Chicago. She always said, "Paint what you see," which I quickly translated into painting flowers and landscapes, portraits and pleasantries. Only when I pursued a more formal education in art-B.A. and M.A. in painting and printmaking-did I come to realize how difficult it is to paint other things that I saw: injustice and inequality along with the good and happiness that people share.
Naturally, a Ph.D. in philosophy followed.
After many years of publishing essays and books about art, arguing for feminist theory, and teaching university students,
I have returned to painting with a deep appreciation for the fact that philosophy is not enough. I need art to say things yet 
unsaid.
Eleanor Roosevelt once said, "You must do the thing you think you cannot do."
That's my goal: every day, in the studio.
Welcome to my art.

- Peg Brand
---
Opening Reception Thursday, Nov. 13th, 5-7 p.m.
As an extension of the exhibition "bauhaus modern" at Smith, students in HACU 279 (Mutations in Expression) and HACU 321 (The Bauhaus) are curating a show of student design work, German and Abstract Films of the 1920s and 30s, and other experimental projects.

Using the thematic categories of the Smith exhibition as prompts, the students in Thom Long's studio design course are re-imagining concepts such as "Construction and Destruction" or "Mass Culture and the Body." 
Other students in Karen Koehler's Bauhaus seminar are rethinking historical objects, such as the group of students who are using the Lemelson Center to re-imagine the Light Space Modulator by the Bauhuas artist Lazlo Moholy-Nagy and the Colored Light machine by Ludwig Hirschfield-Mack.