Windows II: New Paintings by GEORGE WARDLAW
The Main Gallery at Hampshire College opened its fall '08 season with Windows II:  New Paintings by George Wardlaw, which ran from September 1-28.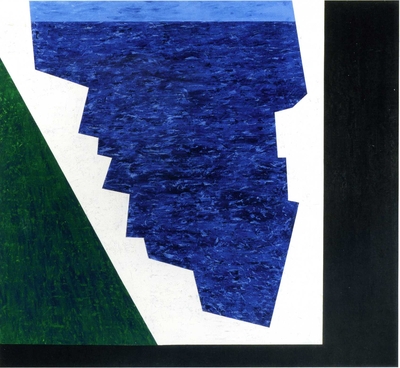 Windows II was the second exhibit by Wardlaw this year; Windows I was on view in March '08 at Hampden Gallery-University of Massachusetts in Amherst. "The two groups are quite different but clearly related," says Wardlaw in the statement that accompanied the Hampden exhibit. "The [Hampden] exhibition displays a very quiet, silent, and tranquil atmosphere. It echoes aspects of the vastness of the sea, the sky, and the intensity of shore light and more. Parts of Windows II have all the qualities of the aforementioned work," he continues, and indeed the imagery is consistent throughout; all the paintings are seascapes, somewhat abstracted,done in a limited palette, and incorporating black areas that allude to a framing element. However, "a rather significant development evolved in the work," said Wardlaw, about the period during which the Windows II pieces were made, "which will be evident on viewing."  

Indeed, the surfaces in the second group of paintings are more aggressively engaged than in the first group.  Surfaces are built up, and shapes are formed by, the energetic application and scraping down of multiple layers of paint. There is an overt tension in the work--a suggestion of raw power held in check--which is augmented by the razor-sharp edges, staccato brushmarks, and jagged shapes in the paintings in Windows II.   

Wardlaw is an Amherst resident and retired Professor of Art from the University of Massachusetts-Amherst, where he was chair of the Art Department for seventeen years. He has exhibited all over the world, and his paintings are included in major national collections.    

Wardlaw calls Windows II  "a memorial to Judy," his wife of over fifty years, who died in May 2008 after a long illness. "I never did a painting or piece of sculpture without asking Judy to look and tell me what she thought," says Wardlaw. "For me, this show is very much a dedication to Judy."

There was an opening reception on Thursday, September 4th, from 4-6 p.m., with the artist in attendance. This event was free and open to the public.