You are here
Past Exhibits 2012
Pulp to Pixels: Artists Books in the Digital Age
November 5-16, 2012

Gretchen Henderson delivered the keynote talk:
Thursday, November 8, 4 p.m. with reception to follow

This exhibit explores how technology has affected all aspects of artists' books, from production to creation to access and use. Some of the works on display explore interactive generative art with text and image, some function as books in their own right but can be enhanced with technology, and others require a smart phone or tablet to view them at all. Artists will include Nick Montfort, Paul Zelevansky, Jie Qi, Colette Fu, Danielle Aubert, M. Kasper, Gretchen Henderson, and Amaranth Borsuk, among others.

This exhibit has been curated by Andrea Dezsö, Steven Daiber, and Meredith Broberg.

Pulp to Pixels: Artists Books in the Digital Age was made possible in part by a Mellon Digital Humanities grant from Five Colleges, Inc., and co-sponsored by the Hampshire College Board of Trustees. It is part of a larger event, "Non-Visible and Intangible: Artists Books Respond to E-Books."

Gallery hours: Monday-Friday, 10:30-4:30 and Sunday, 2-5
For more information about "Pulp to Pixels: Artists Books in the Digital Age," go to:  http://nonvisible.wordpress.com/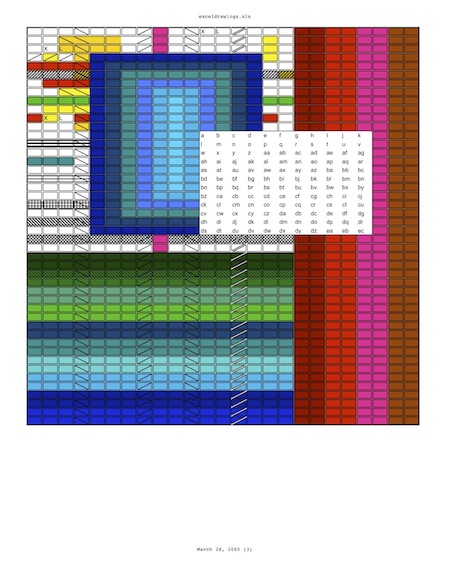 Danielle Aubert, 16 Months Worth of Drawing Exercises in Microsoft Excel
Danielle Aubert; with essays by Oleg Aronson and Tan Lin.
[New York] : Various Projects, Inc., c2006.
---
Hampshire College Faculty Art Exhibition
October 7-29, 2012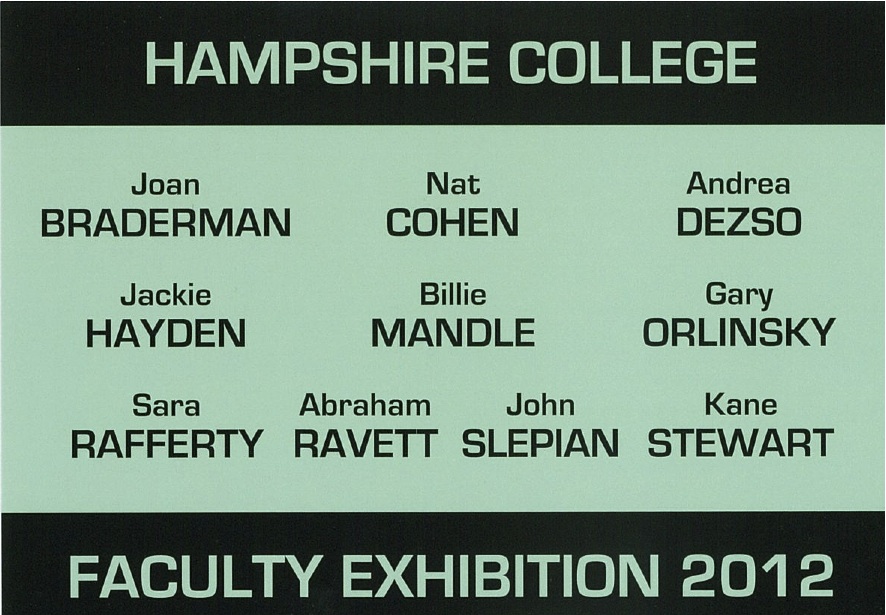 Featuring new work by:
Joan Braderman, Nat Cohen, Andrea Dezso, Jackie Hayden, Billie Mandle,
Gary Orlinsky, Sara Rafferty, Abraham Ravett, John Slepian, and Kane Stewart

Reception
Friday, October 12, 2012, 5-7 p.m.
In conjunction with Hampshire Family and Friends Weekend
Gallery hours
Monday-Friday, 10:30 a.m.-4:30 p.m. and Sunday, 2-5 p.m.
Special hours: Saturday, October 13, 10:30 a.m.-4:30 p.m.
---
David Wilson: Everything all at Once
September 3-September 28, 2012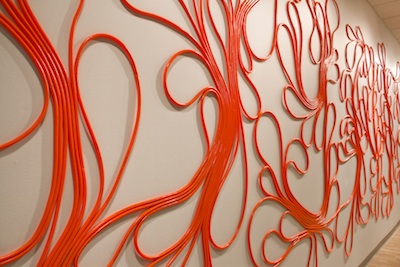 DAVID WILSON holds an MFA in visual afrom the University of California, San
Diego, and is professor of art and head of the Graduate Studies in Art Program
at the University of Tennessee-Knoxville. He has exhibited all over the world,
including New York; Australia; New Zealand; Slovakia; Reykjavik, Iceland; and
Basel, Switzerland (Kunsthalle 2000). In addition to creating site-specific gallery
installations, Wilson is also a performance artist and a filmmaker who has won
international recognition (Dallas, Texas; Sydney, Australia; Florence, Italy;
Belgrade, Serbia).

For the installation at Hampshire, David Wilson will create a "drawing"installation with hose, paper and vinyl. These drawings and materials facilitate and explore the concept of extended drawing. Extended drawing is an approach that, once set in motion, can be carried out indefinitely. "I set parameters (formal, perceptual, psychological) that are distinct and clear. Then it is all open-ended improvisations and challenges that define and shape the work," says the artist.

Strong color is vital, says Wilson. "Color is a way to separate from context.
Bright, non-natural color is immediately out of place, an aberration,
extraordinary. It permeates the whole room, enters the senses, and gets on
your skin. You can taste it. It makes an impression that is hard to shake."

There was a gallery talk on Wednesday, September 26 at 4 p.m. followed by a
closing reception from 5:00-6:30 p.m.
---
Selections from the Hampshire College Permanent Collection
July 25-August 24, 2012

Including works by Leonard Baskin, George Grosz, Emilio Sanchez, Jack Youngerman, and others.

(Pictured: Untitled still life by Arnold Blanch; gift of Charles E. Merrill, Jr., 1975)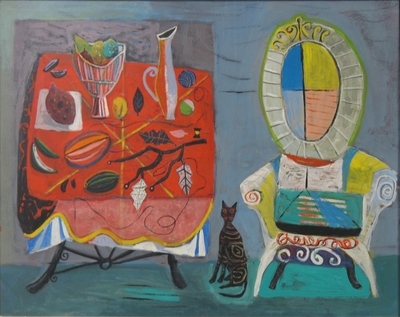 ---
Arts for Change
May 25-June 15, 2012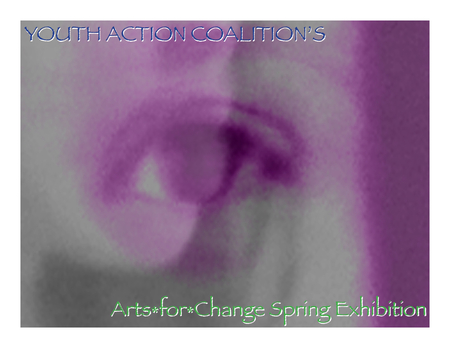 An exhibit of exciting new works by Youth Action Coalition member artists.
Gallery hours: Monday-Friday, 10:30 a.m.-4:30 p.m.
Reception: Thursday, June 7, 5-7 pm, at the Amherst Art Walk.
Meet the artists, hear their stories, purchase artwork, make a difference.
...a collaborative steel and photographic bench...a mannequin collaged with photos and drawings...stunning documentary video installations...engaging photographic journeys.
Cover art by caliesta symons, girlseyeview ware, 2012.
---
Studio Arts and Photography: Division III Student Final Presentations
March 28-May 19, 2012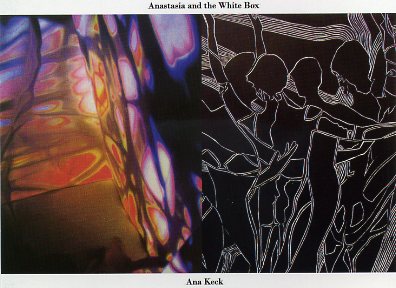 March
28-31: Anastacia Keck and Mara Savina Falstein
31-April 4: Julia Loughlin, Randy Guthmiller, and Michael Grand-Jean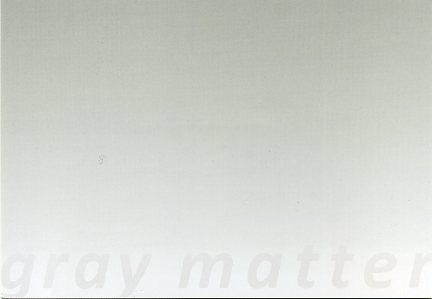 April
5-9: Michele Mirisola, Alec McManus, and Emma Gabriner
9-12: Dan Battat and Nicole Markowitz
12-15: Laura Gordon, Molly Smith, and Mia Metivier
15-18: Noah Eisenbruch, Max Basch, and Rylan Pennell Johnson
19-23: Benjamin Scott Bauman, Jiemin Lao, and Becky Tang
23-26: Danielle Cattan, Rose Holterman, and Alexander Weaver-Scull
26-29: Audrey Nefores, Nathan Ari Rubinfeld, and Olivia Lee
29-May 2: Jessica Levy, Ramzi B. Nakhleh, and Patrick Weck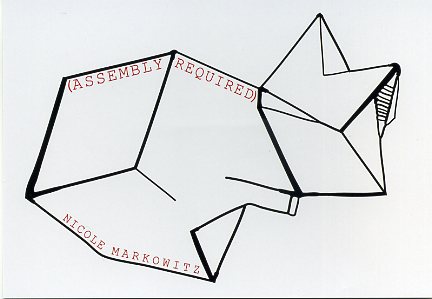 May
2-4: Luz Fernandez and Monika Martinez
4-7: Dot Goldberger and Molli Mercer
7-9: Lyla Denburg and Barbara Dasilva
10-12: Nicholas Hurwitz-Goodman and Julia Gladstone
13-15: Ashley O'Brien, Ana Keck, and Mara Falstein

May 16-19, 2012
DIVISION III STUDIO ARTS AND PHOTOGRAPHY GROUP EXHIBITION
---
Bruce Ackerson and Sally Curcio: Paintings and Bubbles
February 16-March 15, 2012
Reception: Sunday, February 19, 2-4 p.m.
Painter Bruce Ackerson and sculptor Sally Curcio will be exhibiting their work at the Hampshire College Art Gallery in February. Ackerson and Curcio have more in common than having studios at the Arts and Industry Building in Florence, MA. Their work shares a similar panoptic perspective, whimsically and colorfully capturing entire environments that entice the viewer to enter fantastic worlds.
In Bruce Ackerson's paintings, the visual and the narrative go hand in hand. The artist uses a consistent format of medium to large-sized square works painted in oils on panel. The paintings are distinguished by their high vantage points and richly textured surfaces. From a bird's-eye view, Ackerson presents "scenes which are an imaginative take on popular culture, modern life and the hidden world of the human psyche.
His beautiful, agitated brushwork adds to the tension inherent in his unusual depictions, making his work both compelling and highly appealing." [Marla Rice, Rice/Polak Gallery]. Bruce Ackerson is represented by Rice/Polak Gallery in Provincetown, and Art 101 in Brooklyn. He received a Pollock-Krasner Foundation Grant in 1999, and his paintings are in collections worldwide.

The artist's work can be viewed at his website.
 
Sally Curcio's body of work, "Bubble," uses materials such as pins, beads, false eyelashes, tennis balls, shuttlecocks, and make-up application pads to create miniature worlds rendered in 12"x12" squares enclosed under acrylic glass bubbles. The tiny worlds not only evoke fantasy, but also a kind of nostalgia for mythical or fairytale lands of childhood.
Sally Curcio's work is represented by William Baczek Fine Arts gallery in western MA, and Fresh Paint Art Advisors, CA. Curcio also has work in the flat files at Carroll and Sons Gallery in Boston, MA, and Morton Fine Art in Washington, D.C. In 2010 Curcio received the Blanche E. Colman Grant Award, and in 2011 her work was chosen for the DUMBO Arts Festival, Brooklyn, NY.

More information on Sally Curcio can be found at her website.
Custom Ads