Posters from the Eqbal Ahmad Lecture Series
December 9-13
Due to unforeseen circumstances, the 2014 lecture has been postponed until spring 2015, date to be announced.
History of the Lecture Series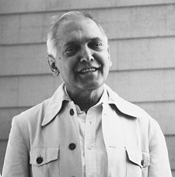 The annual Eqbal Ahmad Lecture honors the teaching, scholarship, and activism of the late Eqbal Ahmad, who was a longtime Hampshire College professor.
Professor Ahmad's faculty colleagues, former students, family, and friends from around the globe have joined together to make this lecture series a continuing celebration of his life and work.
Previous Eqbal Ahmad Lecturers include
Kofi Annan, Edward Said, Noam Chomsky, Arundhati Roy, Seymour Hersh, and Tariq Ali.
Librarians and Archivists with Palestine
Thursday, November 13, 5:30 pm, Main Gallery, Harold F. Johnson Library Center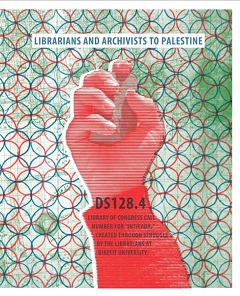 Librarians and Archivists with Palestine (LAP) is a network of self-defined librarians, archivists, and information workers in solidarity with the Palestinian struggle for self-determination. This network grew out of a delegation of sixteen librarians and archivists who met with Palestinians throughout the West Bank and Israel in June 2013. The delegation aimed to explore how information about Palestine reaches us, or does not, and the ways in which this information is suppressed, censored, or misrepresented. Two members of the delegation, Molly Fair (Interference Archive, justseeds) and Maggie Schreiner (Tamiment Library, Rude Mechanical Orchestra), will discuss the historical and ongoing of theft and dispossession of Palestinian cultural heritage materials, the delegation itself, and the continuing solidarity work of Librarians and Archivists with Palestine. They will also be exhibiting the zines, posters, and book art that grew out of—and remain a critical part of—their solidarity work.

Blog post: http://sites.hampshire.edu/theharold/2014/11/07/event-librarians-and-archivists-with-palestine/


Librarians & Archivists With Palestine Link:
http://librarianswithpalestine.org/
F14 Division III graduates in Studio Arts and Film/Photography/Video
Final Presentations in the Main Gallery
November 14-22
Caleb McKenzie-Margulies
Jenna Miller
December 4-8
Ngawang Lodoe
Kendall Meehl
Jonathan Pedigo
October 2-29, 2014
Paintings by Deirdre Leber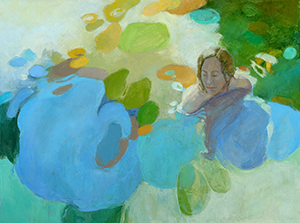 Open, blue heart, oil on canvas, 2012
Deirdre Leber grew up in New York City and started studying at the Art Students League at the age of ten. She received a B.A. from the University of Pennsylvania, an M.F.A. from Brooklyn College, and attended the Skowhegan School of painting and sculpture. Leber began exhibiting her oil paintings in 1986 and has since exhibited widely in NY/USA.
About the paintings in the current exhibition, Leber says: "My paintings, synthesized from observation and imagination, are the dialogue between the seen and the remembered, the planned and the surprise that happens on the canvas. In these images of water and women a tension is created between representation and abstraction as the figures appear and disappear in the fluid surface of each paintings. Water is a mysterious and vita element, intimately linked to birth, sustenance and the feminine. Working with both brush and palette knife, I layer one color over another. In this way, the contrasts of opacity and transparency, of thick and thin, solid and liquid are the dance of my paintings."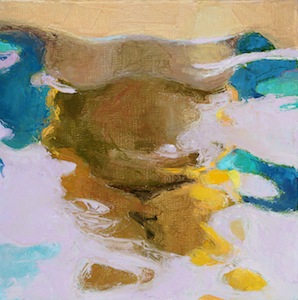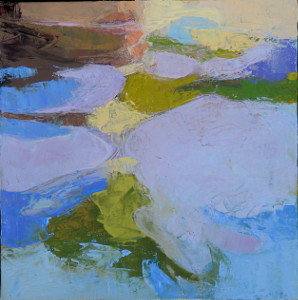 Torso, oil on canvas, 2012                                                              Liquid, oil on canvas, 2012
There will be a gallery talk with the artist on October 2 at 2 p.m. followed by an opening reception from 3-5 p.m.
This event is free, and the public is encouraged to attend.
For further information, contact Carolyn Arnold at carnold@hampshire.edu or 413.559.5544.
I MAKE ME UP: The Work of Robert Seydel and his Pupils
September 12-29, 2014
Curated by Audrey Nefores and Ryan Mihaly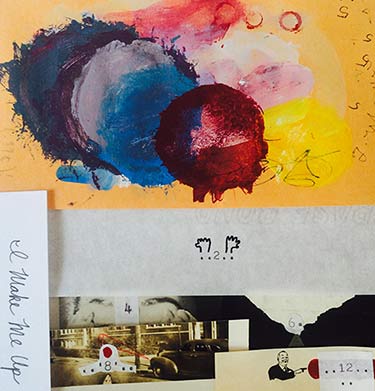 "I WALK WITH A LIBRARY AT MY EAR"
Robert's desks were covered in scraps. His house was filled with books, sometimes with shelves two books deep. His syllabi--that stale and unexplored art form--came to life with photographs and text that played on the page. His colorful lectures (marked by a wry smile and an occasional pirouette) referenced a range of artists across time: from ancient cave painters, Japanese walking monks, the Dadaists, and Joseph Cornell, to a vast array of poets, writers, performance artists, and musicians. Swinging about the classroom, he appeared possessed by the history of art. His handling of the material was reverent, and his knowledge encyclopedic.
"SCUFFINGS CARRY HISTORY"
Robert Seydel left a palpable mark on those who studied under him. The works here show the many ways in which Robert's teachings are alive. His trace inhabits the wild geography of his student's images. Robert's collages are hung alongside pieces made by those who worked with him. Lessons dealing in his spirit move fluidly from frame to frame.

I MAKE ME UP aims to highlight the connection between teacher and pupil. Rather than make an artist statement, contributing artists were asked to craft a reflection on how Robert influenced their work. Twenty-five of Robert's former students of various disciplines--photographers, collagists, filmmakers, and more--are on display. Much of the work here escapes classification; it shifts and bends expectations. Accordingly, the reflections take the form of poetry, prose, and image.
"I AM THE HOUSE I GLUE IN"
The curators recall with peculiar clarity the experience of standing in Robert's home after his death. For Robert, space was integral, as was dust. With this in mind, much like alum Michael Meo, the designer of the Robert Seydel Reading Room, we aim to "invert the normative condition" of the gallery. In addition to pieces that hang on the wall, the space is punctuated with relics from Robert's home. Domestic pockets are created, with stuffed chairs, lamps, and desks thick with clippings. We ask viewers to hide away and experience new ways of seeing, and to interact with a host of objects, books, and even bowls of scrap.
---
Mike Tillyer Sculpture and Drawings
Sunday, June 22-Friday, August 8, 2014
Opening Reception: Sunday, June 22, 2-4 p.m.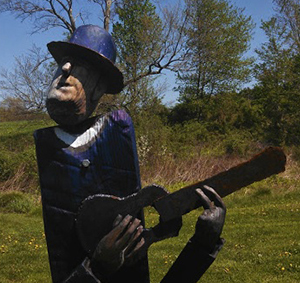 Sculpture by Michael Tillyer
---
March 24-May 17
Spring 2014 Div III Gallery Schedule:
March 24-26 Shona Warwick-Smith and Rikki Sabransky
March 27-29 Daniel Lumsden and Francie Seidl Chodosh
Photograph by Francie Seidl Chodosh
March 30-April 1 Emily Brodrick and Laura Sagatov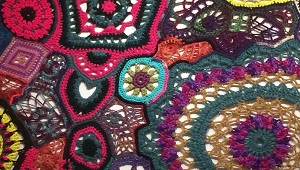 Detail from a piece by Emily Brodrick
April 2-4 Saffronia Downing and Michael Dominianni
April 5-7 Gabby Rosenberg and Darya Diamond
April 8-10 Marilla Cubberley and Darla Stabler
April 11-14 Alexandra Reid, Abby Alansari, and Mariel Nyrop
April 15-18 Kourtnie Aileru, Tara Morrison, and Justin Norris
April 19-22 Lily Kleinman, Leigh Anna Cohen, and Monique Baron
April 23-26 Ruth Kace, Anna Zellweger, and Will Rhodes
April 27-30 Brooke Landon, Evan Amundson, and Alex Vercoutere
May 1-May 4 Hannah Melville, Elijah Billian, and Sam Halote
May 5-May 7 August DeHainaut and Chau Tran
May 8-11 Erika Held and Josh Reynolds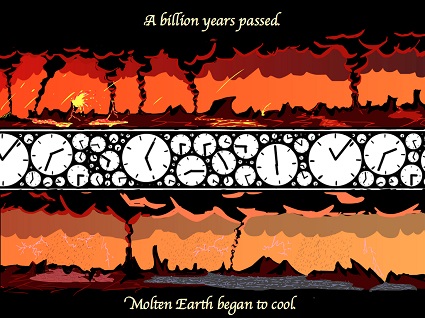 "A billion years passed..." by Josh Reynolds
---
February 13-March 11, 2014
James Baldwin at Hampshire College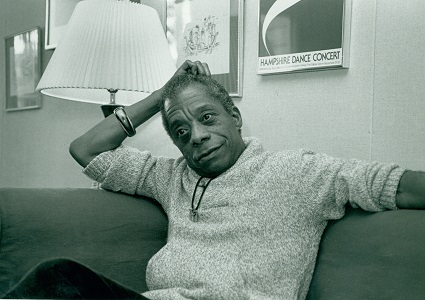 A photo exhibition documenting the years 1983-86, when James Baldwin was a Five College Visiting Professor. 

The Baldwin exhibition runs concurrently with "Selections from the Hampshire College Permanent Collection," in the small gallery; featuring works by Fairfield Porter, Jack Levine, Tadashi Asoma, Werner Drewes, Laura Evans Durant, Dale Emmart, and Paul Zelanski.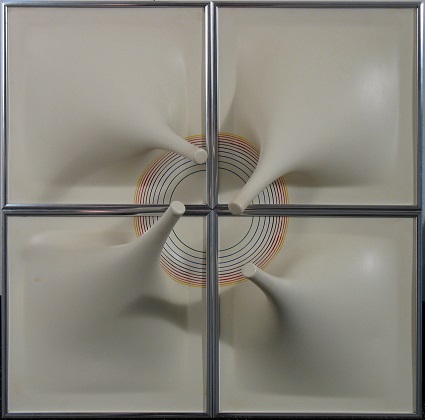 Paul Zelanski, untitled, molded plexiglass, 1970

Main Gallery in the Library Center. M-F, 10:30 a.m.-4:30 p.m.; Sun 2-5 p.m.
---
January 13-February 7, 2014
Hampshire College Staff Art Exhibition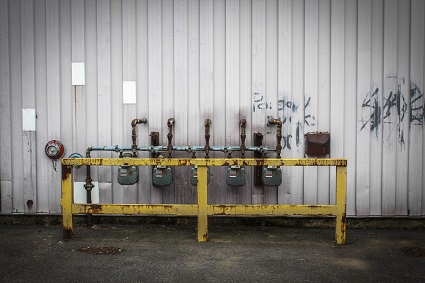 John Gunther, untitled photograph, 2013

Featuring work by:

Carolyn Arnold
Luis Guillen
John Gunther
Bethany Lisi
James Patten
Robert Provost
Amy Putnam
Melissa Scheid-Franz
Brandee Simone

Gallery hours:
Monday-Friday, 10:30 a.m.-4:30 p.m.; Sunday, 2-5 p.m.