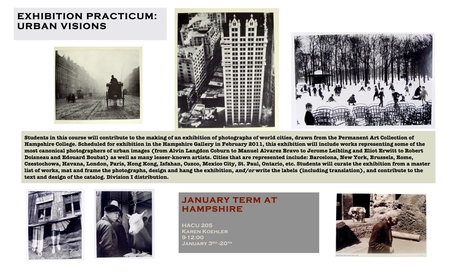 Photographs from the permanent collection of Hampshire College
January 25-February 11, 2011

Gallery exhibition in conjunction with HACU 205/Karen Koehler

Scheduled for exhibition from January 25-February 11, 2011, this
exhibition is mounted in conjunction with URBAN VISIONS, a course
offered by Hampshire College Professor Karen Koehler in January 2011. The
exhibition will include works representing some of the world's most
significant photographers of urban images (from Alvin Langdon Coburn
to Manuel Alvarez Bravo to Jerome Leibling and Eliot Erwitt to Robert
Doisneau and Edouard Boubat). Under the guidance of Professor
Koehler, students will curate the exhibition from a master list of
works prepared in advance, and mat and frame the works for
presentation by using equipment in the Liebling and Lemelson Centers,
as necessary. Students will also design and hang the exhibition.

An important aspect of the course is its incorporation of different
languages in both the coursework and the exhibition. This course
will use the Hampshire Gallery and the permanent collection to lead
to a sustained study of languages in three ways: through the
acquisition of language learning resources for reading knowledge, the
creation of our own publications and curatorial documents, and by
setting up a prototype for future exhibition workshop courses. The
gallery labels and exhibition catalogue will demonstrate and document
the importance of language learning across the disciplines of urban
history, art history, comparative literature, and architectural
studies.
U P C O M I N G   E X H I B I T I O N S
February 15-28, 2011
Hampshire College UMOJA presents a Black History Month exhibition.
Details TBA.

March 1, 2011: SPRING 2011 Studio Arts Division III Presentations begin.
                  Div III shows through graduation.