Application Deadlines

Spring 2016 Program
Friday, October 16, 2015

Fall 2016 Program
Friday, March 4, 2016
Best Semester Ever

Alyssa Pilkons 06F, third prize winner in the 2009 Study Australia Video contest.
Watch video
Program Availability: Fall and Spring Semesters
Hampshire students have the opportunity to study in Sydney, Australia through our institutional affiliation with Macquarie University.
About Macquarie University
Macquarie University in Sydney is dedicated to equipping its students for success in today's fast-changing, highly competitive global society. Macquarie's innovative courses, cutting-edge research programs, and state-of-the-art facilities are located on a spacious parkland campus just 35 minutes from the heart of Australia's largest, most cosmopolitan city.

Macquarie has over 30,000 students and 1,500 staff members. Students come from over 100 countries to study at Macquarie University, a liberal arts institution with a student-centered atmosphere. At Macquarie University you will learn from some of the brightest and most talented academics in the world.
Study abroad students can tailor a study program of subjects from across the university. Areas of study at Macquarie include:
Cultural Studies; Chemistry; Biology; Environmental Science; Electronics; English; Actuarial Studies; Computing; Human Geography; Contemporary Music; Anthropology; Education; Christian Studies; Communication; International Relations; Asian Languages; Australian and Aboriginal Studies; Early Childhood Studies; Earth and Planetary Sciences; European Languages; Health Law; History; Linguistics; Literature; Media; Philosophy; Physical Geography; Physics; Politics; Psychology; Sociology; and Women's Studies.
For course offerings, see Study Subjects.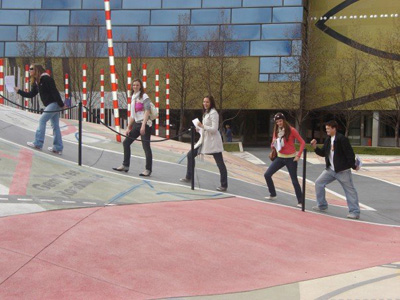 Jonathan Fanning 05F, on the far right, at the National Museum of Australia in Canberra, Australia. Jonathan participated in this exchange program in the fall of 2007.
Eligibility
This exchange is open to qualified Hampshire College students who are in good academic and behavioral standing. Detailed information on Hampshire eligibility requirements and policies is available under the Eligibility Requirements in the Exchange, Field Study, and Short-term Field Course section of the Hampshire College Handbook.
Term Dates
Semester 1: February-June
Semester 2: July-November
Both terms include a two week mid-semester break and end-of-semester exams.
Housing and Meals
Students will arrange their own on-campus housing through Macquarie's accommodations office. There are a variety of living arrangements available, including residential halls and self-catered apartments. For more information and housing application instructions, please see Macquarie On-Campus Accomodation.
Program Costs
Semester tuition and health insurance fees are paid to Hampshire College. GEO will cover the fee for Overseas Student Health Cover (OSHC), compulsory coverage required by the Australian government for all study abroad students.  .
Other expenses: Students are responsible for the costs of housing and meals; passport and visa fees; international and local transportation; books and supplies; travel insurance; and personal expenses. A travel stipend may be awarded by GEO to help offset the cost of airfare.  
How to Apply
Applying to a Hampshire Exchange Program: Application instructions, requirements, and procedures.  
Students are required to meet with the GEO program advisor for this exchange program before submitting an application.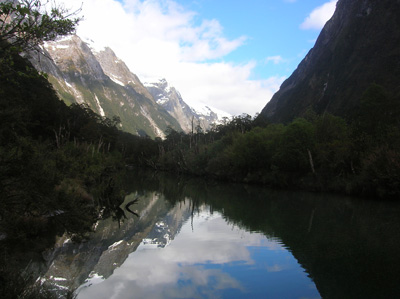 Milford Track, New Zealand. Photo taken by Jonathan Fanning 05F, who participated in this exchange program in the fall of 2007.
GEO Program Advisor
Please contact the GEO program advisor for the Hampshire Exchange Program at Macquarie University-Sydney for all questions regarding this program and how to apply.
Heather St. Germaine
413.559.5542
hstgermaine@hampshire.edu
Application Deadlines

Spring 2016 Program
Friday, October 16, 2015

Fall 2016 Program
Friday, March 4, 2016
Best Semester Ever

Alyssa Pilkons 06F, third prize winner in the 2009 Study Australia Video contest.
Watch video