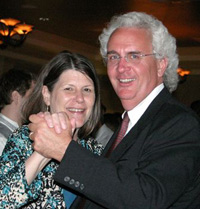 For John and Meg Keydel 72F, restructuring their life insurance policies reflected a new stage in their lives.
With their children's educations paid for, their focus had shifted to different practicalities, looking after both the interests of their grown children and their own potential health care needs.

Meg's mother passed away last year. She had needed around the clock medical attention because of Alzheimer's disease, and it was through this that the couple realized the true cost of long-term care.
Taking care of themselves and their family were key requirements of the newly drawn-up insurance policy. They also discovered an option allowing them to present a $10,000 gift to any organization they chose.
It was an opportunity, they felt, to make an impact at Hampshire College.

"For us, it was really a matter of doing something we needed to do anyway. The original purpose of the insurance was to make sure our children got through college," said John. "As we got into it, we found we could do some good for an institution along the way. Hampshire was an obvious choice for both of us."

John's father was a college roommate of Hampshire's second president Charles Longsworth. Because of that, he got an early introduction to the school.

"The first I saw of Hampshire was in the passenger seat of Chuck's car, probably back in 1969," said John. "The library then was just a few concrete pillars sticking out of the ground."

John weighed the pros and cons of going to a traditional school versus the newly opened Hampshire, and decided the latter was a better fit. The Keydels met in their third year at the College, and married the summer after graduation. Meg had focused on special education at Hampshire, continuing on to become a school social worker and administrator.

Both John and Meg continued their education after Hampshire, with Meg getting a masters in social work and a degree in educational administration and John attaining a masters in adult education and, after entering the banking world, an MBA. After 15 years in retail banking, though, he felt a calling to enter another field of study: the seminary. John has been in several roles with the Episcopal Church since, including as a rector and as an assistant for congregational development and transitions. Much of his early career with the church was spent in Detroit, and he struggled with devising effective ways to serve the community of a city facing extreme economic and social hardship.

"The way I look at the problem set like the one Detroit has was informed by the way my Hampshire education and other influences have shaped the way I look at things. Hampshire is the kind of place that allows people to think in open-ended, progressive ways. It's not simple, not mechantistic, it's highly interconnected. Things have implications, and we need to be alert to them all the time," he said.

That's a major reason why he and Meg chose to support Hampshire with their gift. No restrictions were placed on its usage, as they hope it will simply be allocated how the college administration deems best.

"I trust that Hampshire has a close handle on what is needed. I wouldn't want it to be intensely directed except as it supports the Hampshire project and helps it succeed," said John. "If you're going to make a gift, make a gift and let go of it. It's not a gift if you don't let it go."

For more information about planned giving, please contact Director of Major Gifts Cheryl Butler at cbutler@hampshire.edu or at 413.559.5588.