Marci Riseman 88F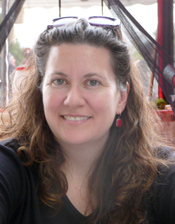 A fellow Hampshire trustee once said, "I credit Hampshire with giving me the skills to perform jobs for which I am not qualified."

That's the Hampshire gift: the ability to walk into a novel situation and figure out how to excel.
How? Because the skills Hampshire teaches are not so much technical, industry-specific ones but rather whole-person skills: how to learn, how to make connections, how not to be petrified by one's own ignorance.

At Hampshire I studied ecological architecture, community organizing, and sustainable development. I also studied music, infectious disease, literature, and composting toilet technology. I took a semester off and lived on a commune. I sheared sheep, practiced karate, and played flute with the Marchin' Band.

Since Hampshire I have been a community organizer, a nonprofit manager, an ecological designer, and a real estate developer. Now, about to turn 40, I'm a writer.

I write under a pen name—not because I write porn or risqué detective stories but because I write about my child. The pen name is a compromise I make for love, for safety, and because it's the right thing to do. Hampshire taught me this too: flexibility. How to work out solutions that make sense, even if they are not the first ones that come to mind or those others would choose.

As my college and I turned 40 together, as we reach what for me is midlife and for Hampshire is mere infancy, we continue to learn, to experiment, to find new paths to being uniquely ourselves. That's the Hampshire way.