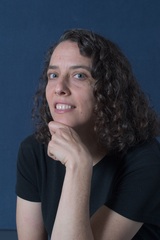 A Poetry Workshop with Jacqueline Osherow
Thursday, November 6, 2008, 2:00 pm
Location: TBA

Jacqueline Osherow is the author of five books of poetry. Osherow has been awarded the Witter Bynner Prize by the American Academy and Institute of Arts and Letters; fellowships from the John Simon Guggenheim Foundation, the National Endowment for the Arts, and the Ingram Merrill Foundation; and a number of prizes from the Poetry Society of America. Her work has appeared in many anthologies and journals, including Twentieth Century American Poetry, The Wadsworth Anthology of Poetry, The Norton Anthology of Jewish-American Poetry, and Best American Poetry (1995 and 1998); The New Breadloaf Anthology of Contemporary American Poetry, The New Yorker, Paris Review, and many others. She is Distinguished Professor of English at the University of Utah.