Faculty in the School of Natural Science are experts in a wide range of academic fields.
Research interests span the core sciences (e.g. chemistry, physics); human health and medicine (including anthropology); environmental sciences; and agriculture studies.
In the Spotlight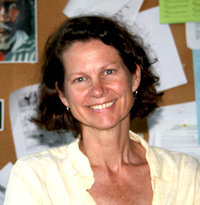 Elizabeth Conlisk, associate professor of public health, is an epidemiologist with a Ph.D. in international health and nutrition from Cornell University. Professor Conlisk has extensive public health experience at the local, state, federal, and international levels, with previous appointments at the Instituto de Nutricion de Centro America y Panama and the Centers for Disease Control. At the CDC, Conlisk worked primarily in the area of cancer control and prevention, including a breast and cervical cancer screening program for low-income women.

For the past eight years Conlisk has been working with Hampshire alum Miriam Cremer 87F, a gynecologist who founded a cervical cancer screening and research program in El Salvador. They co-taught a January term course in which students spent a week in El Salvador, helping local physicians provide screening and follow-up in rural communities. Read more >>
Further Examples of NS Faculty Research and Professional Work:
In the Spotlight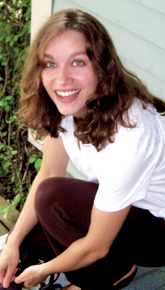 Associate Professor of Organic Chemistry Rayane Moreira (pictured left) and Professor of Chemistry Dulasiri Amarasiriwardena and are recipients of the 2014 David Gruber Awards for Excellence in Teaching and Advising.
David Gruber 72F established the awards in 2012 in order to showcase faculty excellence at Hampshire. Award recipients, who each receive $10,000, are asked to give a lecture or organize a symposium on the topic of teaching or advising, with a goal of encouraging the spread of ideas and methods that will help faculty provide the best education possible for students.
Further Examples of NS Faculty Achievement:
 
Excellence in Ecological Education


The Ecological Society of America presented its Eugene M. Odum Award to Hampshire College Professor of Ecology Charlene D'Avanzo

 
Professor Awarded Fulbright Specialists Project


Dula Amarasiriwardena, professor of chemistry at Hampshire College, has been selected for a Fulbright Specialists project in Chile at the Universidad de Tarapac, Arica

 

Professors Polina Barskova and Herbert Bernstein are the 2015 winners of the Gruber Awards for Excellence in Teaching and Advising.

 

Excellence in Advising and Teaching

Professor of Ecology Charlene D'Avanzo and Assistant Professor of Mathematics Sarah Hews (pictured left) were chosen as recipients of the 2013 David Gruber Awards for Excellence in Advising and Teaching