You are here
New Student News
Volume 6  |  Issue 11 | April 23, 2015
The end of the year is almost here (how did that happen?), and this last edition of the New Student News gives you the information you need to make the most of the last few weeks of the semester. Throughout the summer, most Hampshire offices will be open. If you have questions pertaining to the fall semester or moving back to campus in September, please feel free to contact us at any point. If you don't know whom to call, you can always start with the dean of students office at 413.559.5412 and we will direct you to the right place. All returning students should plan on coming back on Monday, September 7 (Labor Day). More information about that will be sent to you via email in August.

Finally, congratulations to most of you on finishing your first year at Hampshire! And now that many of you are not new students anymore, why not consider helping us to welcome the new incoming first-year and transfer students? We'll be creating a photo album of welcoming wishes on our Facebook page and Instagram, and hope that many of you will share in this project. To participate, stop by Cake Friday (more details below) to have your photo taken.

We hope you have a great summer, and we'll see you in the fall!

 -- Jessica Ortiz, director of new student programs
 

 
F.Y.I.
 
DATES, DEADLINES, AND EVENTS

Packing Up, Moving Out
Here are some tips for packing and moving your belongings!

Boxes
Don't pay for boxes--you can find free boxes at all sorts of places. The easiest place to check is Atkins Farms; they leave free boxes by the cash registers daily, so you can help yourself. Grocery and liquor stores are also good places to inquire about boxes; they're often glad to have someone take them away. Try checking at Duplications (library ground floor) as well!

Store it!
Students may store up to three boxes on campus. Storage policies can be found in the student handbook, as well as information about where you will store your items (based on where you are living next year). For students who will be living off-campus, there is no summer storage space available.

 

Thursday, April 23: April BINGO Extravaganza
Love playing BINGO? Of course you do! Join New Student Programs for a fun night of bingo, free snacks, and great prizes. 6 p.m., FPH East Lecture Hall. We hope to see you there!

Monday, April 27: Hampshire course pre-registration ends
Have you registered for the Hampshire courses you want to take this fall? This is the last day to do so before fall semester. The deadline to submit Five College requests has now passed.

Friday, May 1: Last day of Hampshire classes
Many of you have made it through your first year. Congratulations! Some students will stay after the last day of classes to finish up course work; others will leave. Plan to to your faculty advisor to determine how long you should plan to remain on campus.

Friday, May 1: Cake Friday
Celebrate the last day of classes with the office of New Student Programs! We'll be serving free cake and snacks in the Dakin Living Room on Friday, May 1 at 4 p.m. Stop by for a snack break, pose for a welcome photo for the incoming students, and celebrate your accomplishments. You've earned it!

Saturday, May 16: Commencement
All students are invited to attend commencement: No tickets are necessary. To learn more about the ceremony and surrounding festivities, review the Commencement section below.

Sunday, May 17: Houses close at 10 a.m.
All students must move out of campus housing by this time. There are no exceptions. If you are going to stay until May 17, please plan accordingly so that you will be moved out by 10 a.m. More information about the process for moving out of campus housing will be provided in a future post on the New Student Programs blog. You will also receive more information from the housing operations office over the coming weeks.





 

 
---
Spring Jam: Saturday, April 25, Library Lawn
Spring Jam is just around the corner! Spring Jam is Hampshire's annual spring concert; it's an all-day festival that takes place on the library lawn with music, food, games, and more. Organized by the Spring Jam Planning Committee, it's bound to be a great day. Keep an eye out for upcoming announcements in your email about the schedule of events. You won't want to miss it!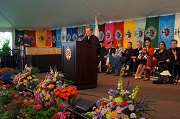 Commencement 2015
Commencement takes place on Saturday, May 16 at 11 a.m. on the library lawn, and all students are welcome to attend. No tickets are required, but be sure to arrive early to get a seat. There will also be overflow seating in the FPH Main Lecture Hall, where a video simulcast of the ceremony will take place. Seating on the library lawn is intended for immediate family members, so you are encouraged to watch from the outskirts or in the Main Lecture Hall. To learn more about the ceremony and surrounding festivities, review the commencement website.
---
Custom Ads