Monday, March 31, 2008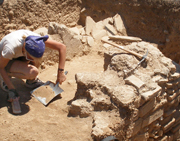 Imagine spending the summer at a seaside site in southern Greece, working alongside experts on a major archaeological excavation. Hampshire College will select one or two students for this honor, sending them to take part in the ongoing Kenchreai Excavations next summer.

Kenchreai is an interdisciplinary research project that brings an international team of archaeologists, art historians, anthropologists, and geologists together to unearth artifacts in what was the port area of the ancient city of Corinth.

"This is the largest current dig in Greece. There are about 70 people working on the site," says Robert Meagher, Hampshire professor of humanities. The dig has been going on for more than 30 years. Just last year Meagher learned the dig's director, Joseph L. Rife, a classics professor at Macalester College, was planning to recruit more students from U.S. colleges to take part.

Meagher lobbied for Hampshire to be considered, and last summer two Hampshire students, accompanied by a third student from neighboring Amherst College, joined the dig. Hampshire sponsored one student, and the second student paid her own way.

Meagher, who also went to the dig last summer, will hold a public information session and slide show on the project this fall, and application forms will soon be available at the Global Education Office. The students will be selected by semester's end.

"So often undergraduates are used only as labor at archaeological digs," Meagher says. "But here the students are considered to be junior staff in the dig, and they receive a great deal of training and responsibility." That said, the dig still involves plenty of hard, physical work, and Meagher warns students should be aware of this.

This summer, the six-week dig program will take place from mid-June to late July. Students will pay $2,800 to attend, and will receive full academic credit. Students must also cover their travel costs. Financial aid will be available this year.

For more information, go to the www.macalester.edu/classics/kenchreai Web site.

Applicants from a range of academic disciplines are encouraged to apply. "We welcome a wide diversity of students. Each discipline brings a different perspective," Meagher says. Students stay at a family-run hotel—designed for long-term archaeological teams—in the village of Ancient Corinth, roughly one hour south of Athens. Field trips and archaeological tours of Athens and the Peloponnese are included.