Monday, March 31, 2008
Hampshire's School of Cognitive Science has received a grant aimed at fostering connections between media arts students and their counterparts in computer science. The $50,000 National Science Foundation grant will also fund the planning stage for a partnership between Hampshire, the Holyoke public middle school, and Holyoke Community College—a community outreach initiative that Hampshire has long been cultivating.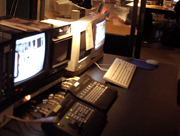 Computer science professor Lee Spector, one of three co-principal investigators of the grant along with media arts and sciences professor Chris Perry and computer science professor Jaime Davila, said the award reflects the NSF's larger interest in combining science, technology, and art. "How often is it that a filmmaker gets money from the National Science Foundation? Chris Perry did, because there's important interdisciplinary ground to be explored here. The NSF recognizes and values that intersection. It gives a broader base, letting the science people see how artists do things and vice versa."
Spector has been a nexus between the two worlds since arriving at Hampshire in 1992, encouraging students to find the place where human and the computer creativity meet. Nurturing this creativity in Hampshire students means that this interdisiplinarity gets carried out into the filmmaking and computer worlds by Hampshire graduates.
"We'll be trying to build computer systems that are themselves creative, and we'll be using them to produce high-end digital animation," he said. "It's a very Hampshire idea. It puts out there that we're right in the middle of that intersection between arts and science."