Friday, October 21, 2005
Democracy Promotion, Past and Present: Rhetoric and Reality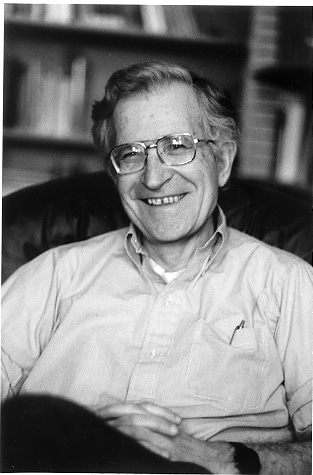 Noam Chomsky spoke to an overflow audience at the annual Eqbal Ahmad Lecture at Hampshire College on October 11, 2005. His lecture, titled "Democracy Promotion, Past and Present: Rhetoric and Reality," is online.

A prolific author and influential scholar, Chomsky is known for his groundbreaking work in human language and for his outspoken critiques of American media and government.

Chomsky's career has been based at the Massachusetts Institute of Technology, where he joined the staff in 1955, became full professor in 1961, and was appointed Institute Professor in the Department of Linguistics and Philosophy in 1976. He received his Ph.D. in linguistics in 1955 from the University of Pennsylvania. From 1951 to 1955, Chomsky was a Junior Fellow of the Harvard University Society of Fellows.

He has lectured at many universities around the globe and is the recipient of numerous honorary degrees and awards. He has written and lectured widely on linguistics, philosophy, intellectual history, contemporary issues, international affairs, and U.S. foreign policy. His most recent books are A New Generation Draws the Line; New Horizons in the Study of Language and Mind; Rogue States; 9-11; Understanding Power; On Nature and Language: Pirates and Emperors, Old and New; Chomsky on Democracy and Education; Middle East Illusions; and Hegemony or Survival.

The annual Eqbal Ahmad Lecture honors the teaching, scholarship and activism of the late Eqbal Ahmad, who was a long-time Hampshire College professor. Professor Ahmad's faculty colleagues, former students, family and friends from around the globe have joined together to make this lecture series a continuing celebration of his life and work. Previous Eqbal Ahmad Lecturers include Kofi Annan, Edward Said, Arundhati Roy, Mahmood Mamdani, Fatema Mernissi, Dr. Mustafa Barghouthi, and Seymour Hersh.

You can view Noam Chomsky's 2005 Eqbal Ahmad lecture.